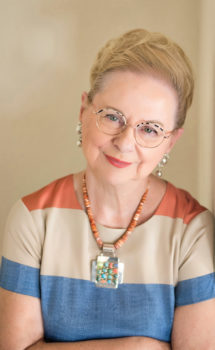 Becky Kueker, SaddleBrooke resident, National Speaker and Author
I stepped off the bathroom scale, looked in the mirror and thought, "Really!" That scale has been totally off the last two months so I knew it was definitely time for me to kick it to the corner and social distance. Or maybe I should move it to the kitchen, that way it could give me the evil eye every time I opened the refrigerator.
In all honesty my weight gain the last three months has been my fault. I also will admit that the quarantine snacks I purchased to last for at least one month, I ate in pretty much in one week especially the Reese's Peanut Butter Cups I had hidden in my underwear drawer. What is it about doing nothing that makes you so hungry?
My biggest vice has always been sweets. Butter cream icing on a mile high cake, blueberry pie, yum! I never make them unless we have company and of course the last three months with no company I had no reason to make anything sweet. Day one of the quarantine I vowed I was going to meditate daily and do body sculpting exercises. In fact I had dug in and promised to social distance from my refrigerator.
But in late April I decided I would bake something for my neighbors. Single guy next door, 90 years old and loves everything I bake and on the other side a lovely couple from England who like my pies. What a wonderful neighbor I would be if I just whipped up a few treats for all of us to share.
Remember back in January when we all thought we were fat after the holidays, well fast forward to the end of May I am almost eight pounds heavier and pants are getting pretty tight. I have been walking three miles every day so I figured sure that would work off all the bad things I had been eating right. No it did not! My scale held steady at the new weight and I am already feeling the pressure of calorie anxiety.
I sat down to have a frank talk with my husband about it one night. He did not see this as a serious discussion. In fact he did not want to even address that I would stop making sweets because it was making us feel so good and had taken our relationship to a new sugar high level. I will never again underestimate the romantic value of a chocolate cream pie served with a great Merlot!
I did not take his dismissal lightly and eyed him sitting there with a new roll around his middle. "How should I approach this" I thought to myself? Cannot be pointing fingers but it was pretty obvious we were both bobbing around in the same weight gain boat.
A client sent me this quote and now I get what happened to women hundreds of years ago that sent our scales spinning, "Now that I have lived during a plague, I understand why most renaissance paintings are of chubby women lying around without a bra!"
I called a friend hoping to get some sympathy but she said, "Girl do not talk to me about food. My hobbies right now are eating and complaining about gaining weight!" Defeated I started surfing the web and stumbled on this site that said there is really such a thing as fat phobia. You know in the last three months we have had so much time to think about everything, especially our flaws and of course, obsessing over food. I don't see how that is helping our mental health. We all know that true beauty comes in all sizes. It is so hard to think about weight loss because am I not right, one of the best parts of life right now is comfort food.
As I open the refrigerator door looking for that perfect meal that will taste good and yet not add extra calories, I just smile.  In reality there should be no contest for who comes out of this looking the best shedding the most weight or works out twice a day because body shaming should not be on our radar with all we are facing.
According to some headlines we should take this time to rethink our relationship with food or decide to become a vegetarian.  But aren't we all craving familiar, comforting treats to help with our stress? The foods that were off limits are now front and center in our lives. So as I head to the couch with my bowl of butter popcorn to watch yet another Netflix original, I want to be in a judgement free zone at least for today!
Stay safe and well.
Becky