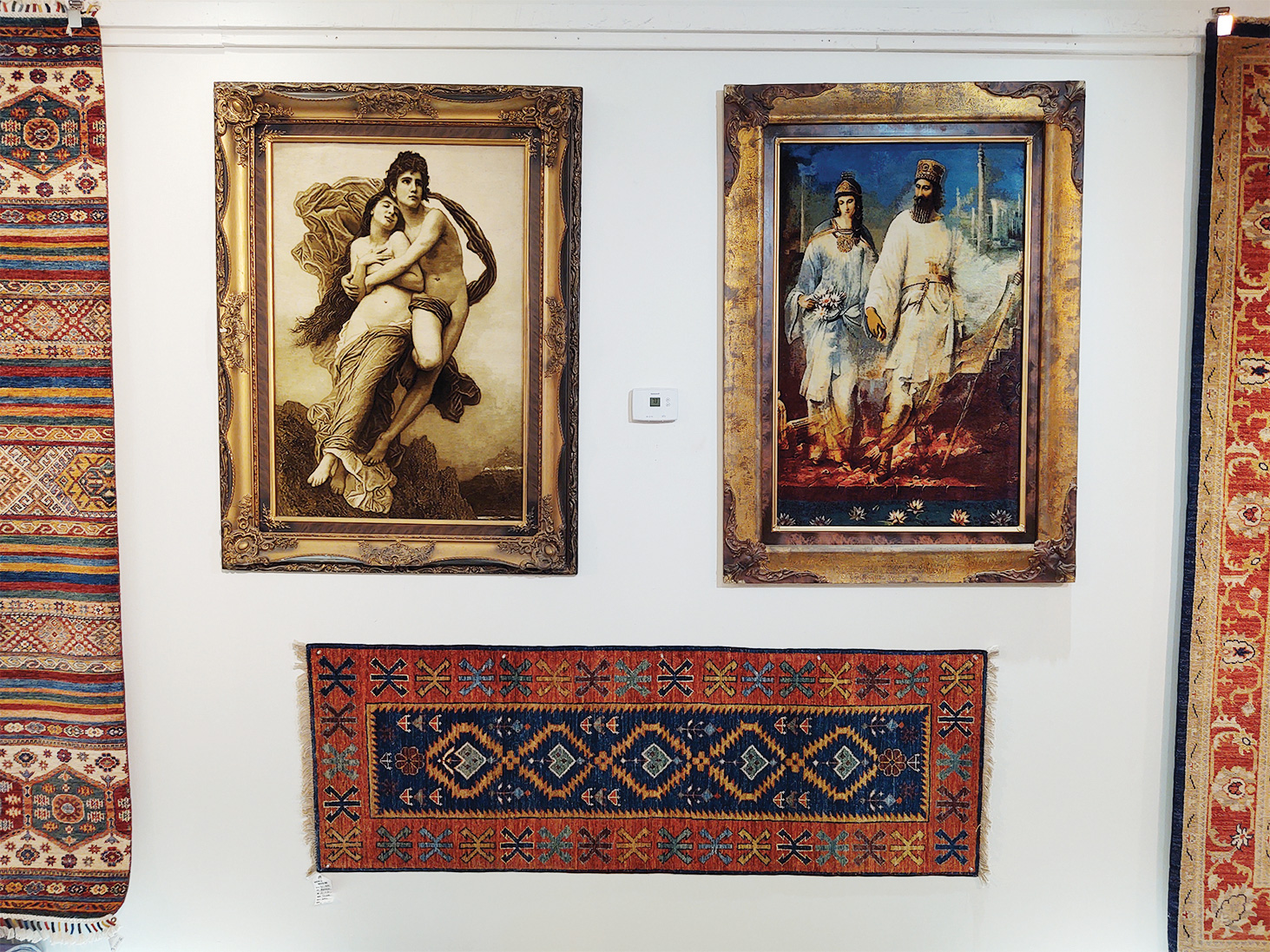 David Taylor
There are not many places in Tucson to see woven rugs in ornate frames, hanging on the walls that resemble high quality oil paintings with the realistic image-like subjects rendered as refined and intricately as if the Old Masters painted them. Even more impressive is that these pieces of art made of thread and fiber were hand created! Amir Karimi, owner of Karimi Rugs in Tucson began expressing his artistic flair weaving fibers that would become masterpiece rugs as a child. Karimi has a true passion for fine quality rugs. It is in his blood. Karimi Rugs has been a Tucson institution in the rug business for over 25 years. Equally impressive as the works of art in frames on the walls at Karimi Rugs is the selection of the rugs for the floors. Handwoven Persian tapestries that will enhance and beautify your home. In all sizes and several shapes. Intriguing, intricate patterns in a multitude of colors that will delight your eyes as well as the guests who visit your home. A guaranteed conversation starter.
His inventory includes imported, top quality pieces, many that he flies overseas to purchase himself. This is how he maintains the high standards he has always held in his craft and his business, for his inventory. Amir Karimi knows rugs. How to purchase them, how to repair them, how to restore them, and how to hand-wash them so they continue to bring enjoyment to his clients for many years. He has instilled this same passion of craftsmanship in his staff. Karimi Rugs will also bring samples to client's homes so they can see how a piece will look in their décor, either as a floor rug or wall art. Visit the gallery showroom and join Amir in a cup Persian tea. Find something you like and Karimi Rugs will allow you a free in-home trial with no obligation.
Customer satisfaction—that is what Amir Karimi takes pride in offering to every one of his clients. If you have a rug that you need to have appraised, well Karimi Rugs is the place to have that done. With a lifetime of experience in the rug business, be assured Amir Karimi will be able to assess the accurate value of your piece. If you need it restored, Karimi Rugs does it by hand, the old-fashioned way, which is the best way to restore them. All done by experienced craftsmen.
Open Monday through Saturday from 10 a.m. to 6 p.m., a visit to Karimi Rugs will enlighten your day and weave a passion for exquisite hand-woven rugs in you. Visit their website at www.KarimiTucson.com or give them a call at 520-319-8280.