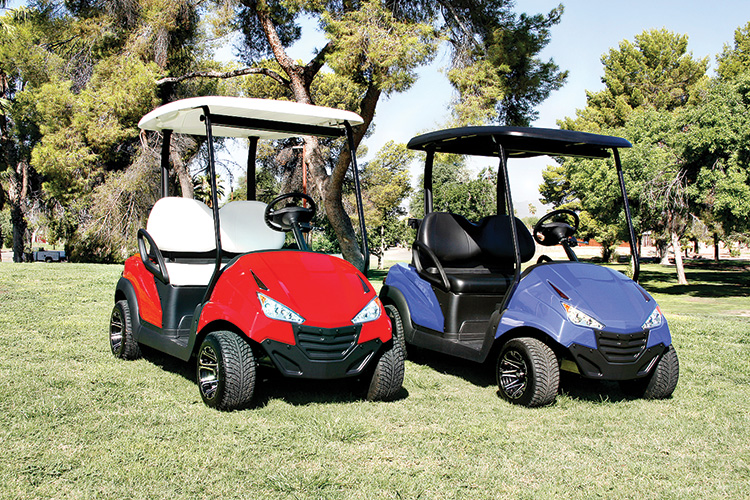 Theresa Poalucci
All business knows that the first rule of success is giving the customers what they want. Golf Cars of Arizona, which opened its doors in 1980 and has grown to three locations, hit a milestone when they sold their 10,000th cart in 2012—proving that they have always kept their eye on their customer's needs.
When the founding owners retired in 2012, Dareck Makowski purchased the business. A Tucson resident with a passion for entrepreneurship, Makowski has continued to build the business by not only preserving the sound practices of his predecessors, but also by thinking outside the box. He and his staff really listened to their customer base.
"We are still the exclusive dealer for Club Car golf carts in the area," said Makowski. "They are a great company and make a quality product, but even with their extensive line of carts we had customers who wanted more."
Makowski and his long-time General Manager Terry Hill looked into manufacturing their own line of carts with an eye toward customization. This was not that big a stretch for the company, as they already had their own upholstery shop, made customized enclosures, and operated a repair shop.
So, Makowski found a way to source the aluminum frame and ship them to Tucson, where Hill's team goes over them with a fine-tooth-comb. Once they are sure of the frame, the team at Golf Cars of Arizona are ready to build a cart that is the best fit for their customers.
"We have heavy duty everything on the cart we manufacture so they last," said Hill. "We can produce a top of the line cart that any other manufacturer can build, but for less money because we are not building our own frame."
"Assembly of our own carts takes place just two doors down from our Tucson location," explained Hill. "This means our customers can get a handcrafted golf cart with the best quality parts."
Hill said they put their first two prototypes through some rigorous testing before they decided to move forward.
"I drove one of the carts all day, putting on 76 miles," laughed Hill. "No one would do that on a golf course. And I did it on one battery charge."
It's all about the battery
One of the critical issues that must be determined when purchasing a golf cart is the type of battery that will power it. There are two popular types of batteries used in golf carts, the deep cycle lead acid battery or the newer lithium-ion battery.
The first type requires more maintenance on the part of the owner. They are relatively large and are composed of two cells with lead and lead oxide maintained by a sulfuric acid and water solution. Unlike most known renewable power sources, the capacity of the deep cycle lead acid battery is variable and dependent on the electrolyte levels in each cell. These electrolyte levels, when properly maintained, poses the ability to supply high currents while maintaining power proportionate to its size and weight. They are the most economic power sources for electric golf carts.
However, since discovering the near limitless benefits of lithium-ion batteries, they have been the preferred choice for batteries and power storage applications. These batteries are made up of power-generating, conductive surfaces called cells. During the charging cycle, lithium ions move back and forth between positive and negative electrodes before taking the energy in for storage. The ions, then, move back to the positive electrode when used to produce energy which, in turn, provides power.
The charge and discharge process gives lithium-ion batteries an extended life, allowing prolonged use in between charges. Since lithium-ion batteries have no liquid electrolytes, they are free from any fluids that require a constant need for fluid refilling, and fluid level monitoring is unnecessary.
Being significantly smaller than their lead-acid counterparts, the lithium-ion battery has more compact storage than the traditional deep cycle variants.
"Dollar for dollar, a wet cell battery is the best way to go," said Hill. "But many of our customers are part-time residents, and these batteries need to be maintained. Plus, some of our clients want more travel distance."
"We have designed our carts so that we can touch on every person's desire," continued Hill. "If the lithium battery is a better choice for the buyer, we have them in a variety of sizes."
The need for speed
Another option that the folks at Golf Cars of Arizona find is high on their customer's lists is having a cart that can go at top speed.
"Believe it or not, the difference between 20 and 25 mph is a big deal," said Hill. "For example, in SaddleBrooke it is possible to live six miles away from the golf course. Imagine if the speed limit on the freeway was 70 mph, but your car could not go past 65 mph. You would be annoyed."
"We offer more speed and output from our rebuilt cars with larger capacity batteries," said Makowski. "Plus, we can offer our customers the better battery at a more competitive price for better speed. This is more economical than converting a cart that has the older type battery."
Choosing all the parts
"We always wanted a second line of carts to offer," said Makowski, "but we have never been happy with the products we could have taken into our dealership. Our solution was to make the kind of cart that we could be proud of ourselves."
"The unique body that we sourced out of Canada is attractive and modern," continued Makowski. "By assembling our own product, we can select the best of each and not rely on just one source."
There is something for every price at Golf Cars of Arizona, plus they repair everything they sell. They can customize any cart they sell as well, but the most options are available on their own custom-built carts.
"This new venture is about customization but based on what we have learned from our customers over the years," concluded Hill.
"It is also about longevity," said Makowski. "And about making the best possible golf cart we can make."
To learn more, visit www.golfcarsofarizona.com.