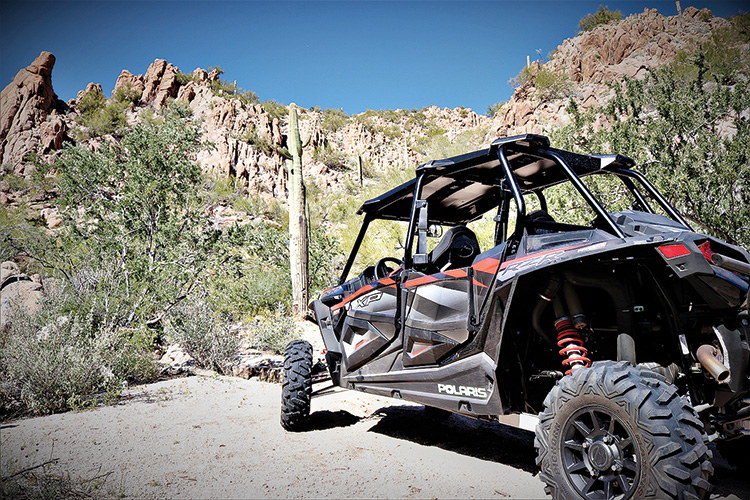 Sarah, Jay, and Ethan Conway
We are excited to announce our newest location in Oracle, Arizona, better known as the "Oracle Adventure Corridor". Titan Power Rentals is the newest, certified Polaris Adventures outfitter! We are located at 760 E. American Ave. in Oracle, otherwise known as the northern edge of the Santa Catalina Mountains and at the base of Mount Lemmon. We offer the very newest Polaris RZR's in both two and four seaters. Daily and half day rentals are available. With our Rent and Ride program there is no need to rent a trailer and haul to a location to ride. Simply book online or call for your reservation, show up and ride! We provide fuel for the day, sunscreen, toilet paper, and a cooler with ice and water. Our friendly staff offers excellent customer service and is always here to guide you on the proper use of the machine as well as suggest trails for your adventure.
Our location is only minutes away from downtown Tucson, Arizona, and barely more than an hour from Phoenix, Arizona. So, you can invite your friends and family; with just a short drive, everyone can enjoy the best of what Arizona has to offer!
The Oracle Adventure Corridor boasts a fun, family friendly environment, with plenty of attractions for all. From off-roading in the newest Polaris side-by-side, to the adrenaline filled excitement of Arizona Zipline Adventures, there is truly something for everyone. Here is just a taste of what you can expect: cooler weather (typically 10+ degrees cooler all summer!); direct access to Mount Lemmon Trail; foothills scenery, trees, and mountains; restaurants, pubs, and history; the site of the first U.S. Post Office in the state of Arizona; restaurants with delicious food…breakfast to dinner, or anything in between; and the famous Ore House Tavern for a cold beverage; Arizona Zipline Adventures, exciting family fun and a great spot to enjoy lunch. Check out the brunch on Saturday (also BYOB); the 3C Ranch with guest lodging, 3D archery range, mountain bike/motocross track, full bar, and a restaurant opening soon, on 500 acres of beautiful landscape, event hosting as well; Rancho Robles has more guest lodging and plenty of scheduled events, both ranches accept large parties and host many events.
Come check out Titan Power Rentals in Oracle. You can ride around in style with the newest Polaris RZR and enjoy all that Oracle, Mt. Lemmon, and Summer Haven have to offer with your first stop, picking up your RZR from Titan Power Rentals!
Titan Power Rentals is a family-based business where you will probably be greeted by the youngest member of the family, Ethan. Mom and Ethan run the shop every day with the help of Dad with maintenance. Future growth is not limited to daily rentals! If you own your own UTV, we plan to offer maintenance packages, parts and much more. With our family love of the great outdoors, we also plan on offering tours, treasure hunts, and packaged deals with the zip-line and ranches.
Call 855-RENT-4X4 (855-736-8494) or go to www.TitanPowerRentals.com for more details.
See you soon!