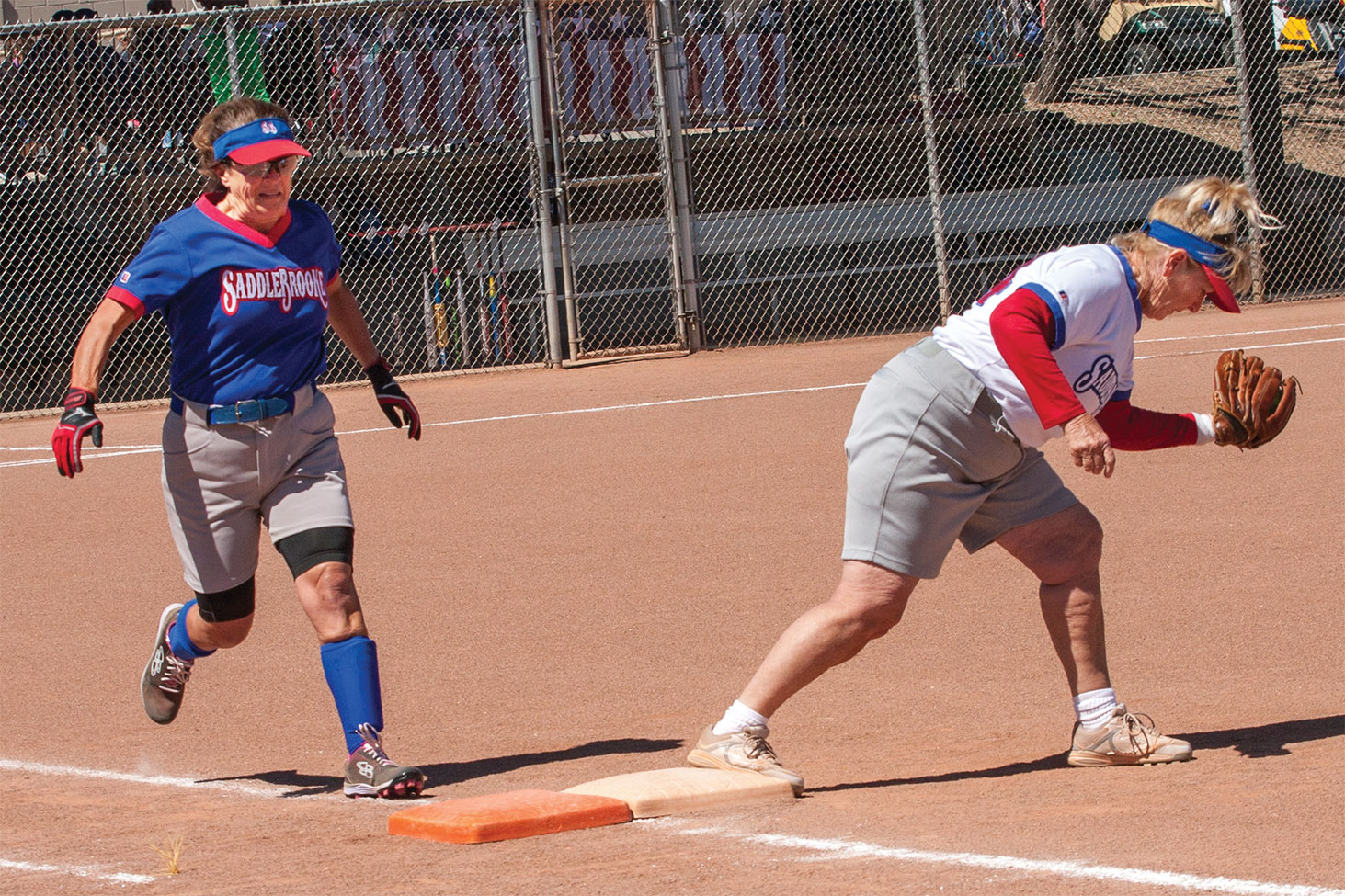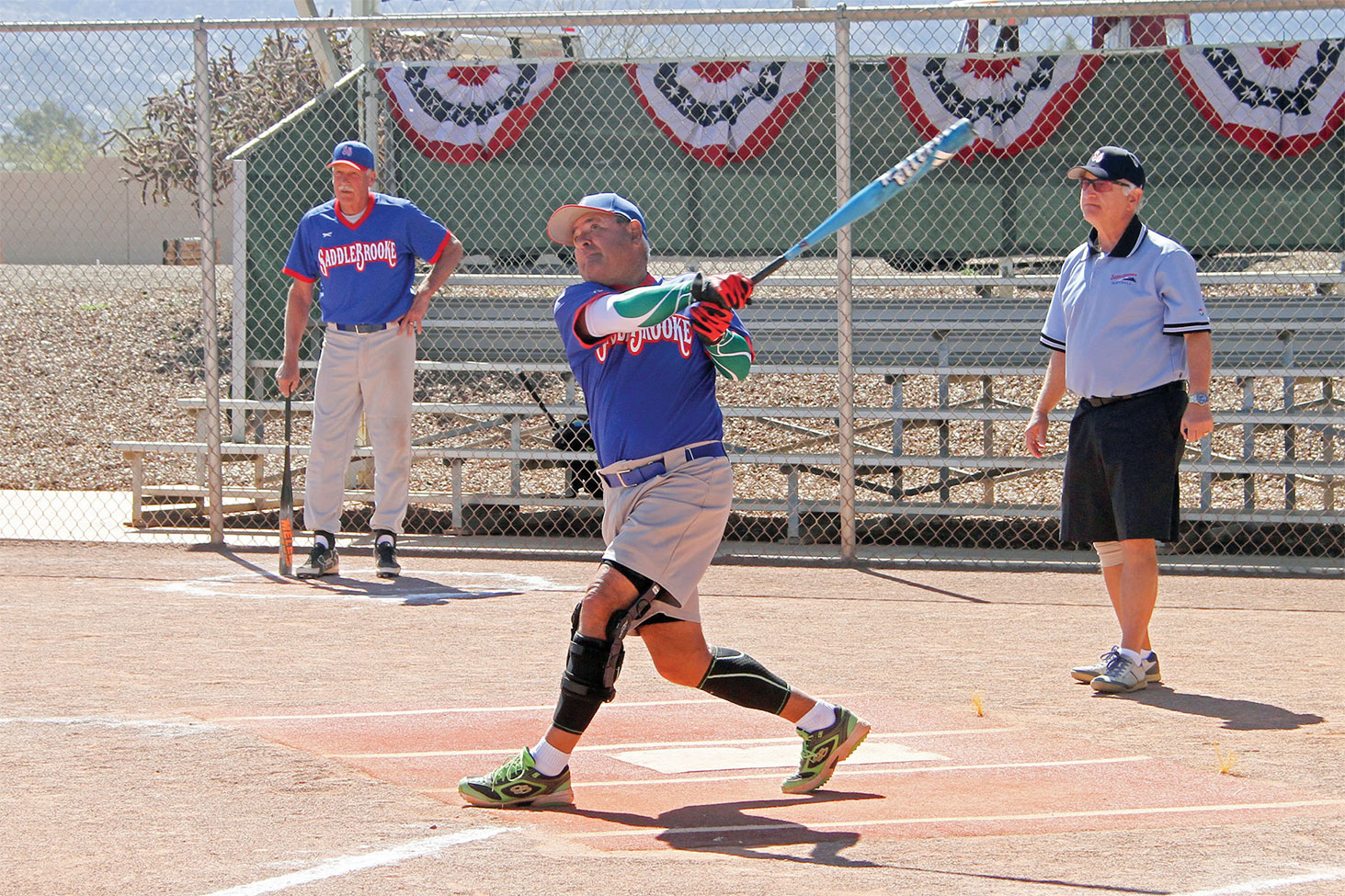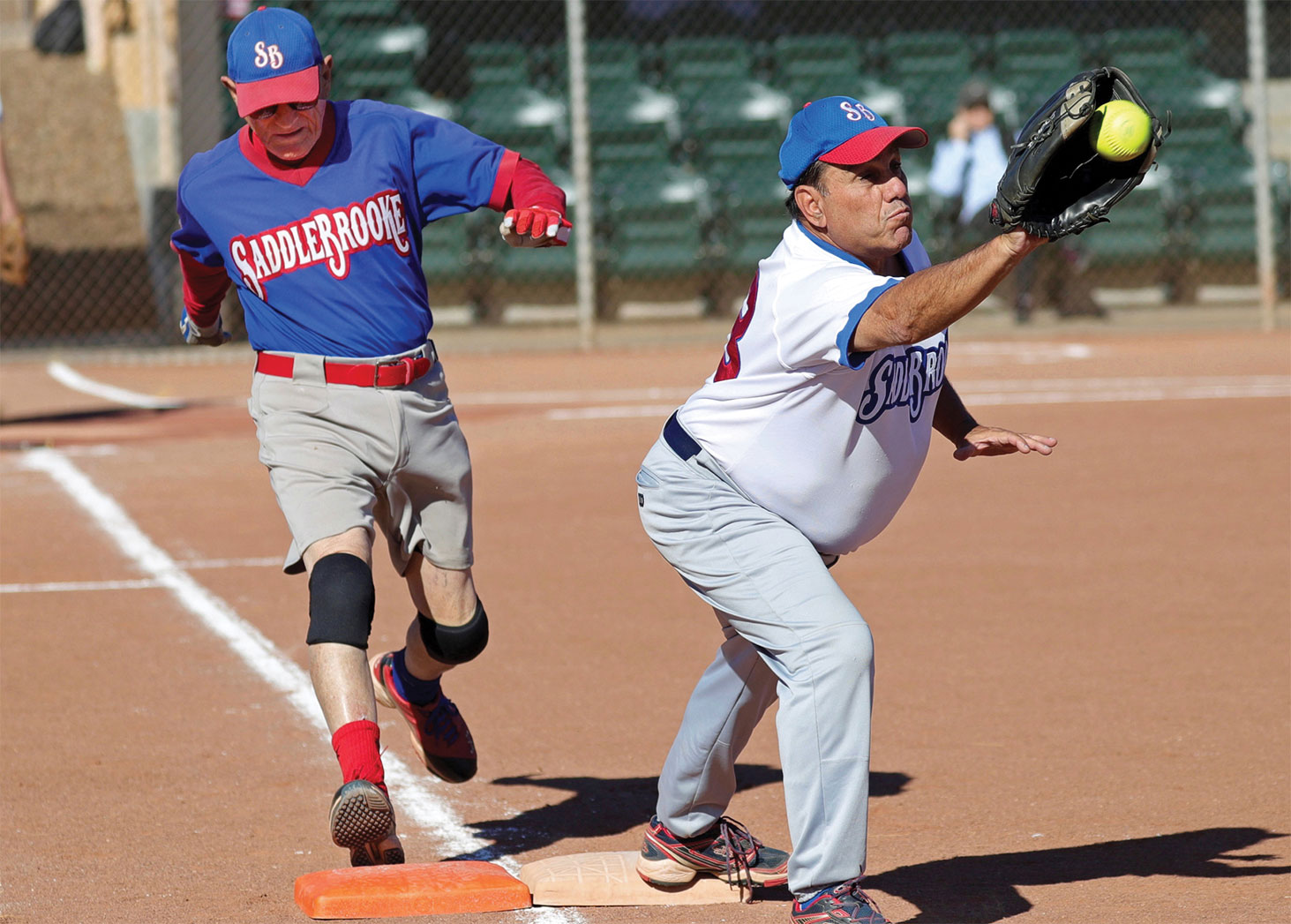 Mark Hojnacki
Sunny skies and light winds made it a perfect day for softball for our annual St. Patrick's Day Tournament. Game one pitted the visiting Home Team Pest Defense against Lexus of Tucson in a Community/Coyote League clash. Both teams matched each other the first two innings 8 to 8, but Lexus scored two in the third to take a 10-8 lead. Terry Mihora led off the fourth for the visitors with a single followed by the next eight hitters who hit safely, scoring five runs without an out to take the lead. Jack Graef, a youngster in his early 80s plated the fifth run with a sharp line drive up the middle and Home Team Pest coasted to a 23-19 win. Mihora and Jim Smith led the victors with four hits apiece. Ron Quarantino, Tony Lulek and Dennis Purcell led the Lexus team with four hits each in a losing effort.
Game two featured the Competitive game between the visiting Players Pub and Johnston's Pest Solutions. The "Murderer's Row" Player's Pub line-up jumped out to a 10-1 lead on the strength of homers by Len Gann and Doug Sweetland, but Johnston's scored five in the bottom of the second to make it 10-6. Both clubs traded blows the next two frames with Johnston's knotting the contest at 15 all after four innings. A couple fielding gems by Johnston's prevented Player's Pub from running away with it the next two innings but after a three run "BOMB" by Charley "Hustle" LaNeve over the left-center fence, Player's Pub led 20-19. Coming to the plate in the bottom half of the inning, consecutive singles by Paul Schwin, Rick Keagy and Terry McNellis tied the score. The Sweet-swinging Joe Oczak stepped to the plate and drove in the go-ahead run ending the contest at 21-20. LaNeve led Player's Pub with four hits matched by Joe Sanders of Johnston's. Key to Johnston's win was the pitching change made by Manager Tim Ward in the top half of the sixth when Dave Bohlman floated pitches which led to two consecutive flyouts ending the inning.
The fun and entertaining Recreation League pitted visiting Bubb's Grub against Canyon Community Bank. After a scoreless first, Bubb's jumped out to a 7-5 lead after three on some fine hitting by Mike Hoedel, Laura Lang, Dave Good, Dennis Purcell and Fran Weinberg. Canyon was not going down easily and led by Jason Noffsinger and Steve Prince made it a game after five innings 12-11. Bubb's put up another four runs in the top half of the sixth on an extra base hit by Lang to stretch the lead to 16-11. Canyon scored four and with the tying run on third in the bottom half of the inning a force play at second ended the well-played game 16-15. Dave Good and Mike Hoedel led the victors with four hits each; Steve Prince had three hits for Canyon.
In the final tilt of the day, Patrick Shaffer DDS spanked Hardin Brothers Automotive 18-15. Top hitters for Shaffer with three hits apiece were Ken Beals, Mike Hamm, Ryan Mitchell, Dave Diercks, Bruce Keefer and Jeff Chikusa. In a losing effort Jim Dunlap was the hitting star for Hardin Brothers.
Special thanks to all our sponsors led by Patrick Shaffer DDS who was our tournament host. Doug Wagers again did a wonderful job grilling the hot dogs and brats. Thanks to all our volunteers who devoted their time setting up, serving lunch, and to our photographers, umpires and scorekeepers. Announcer King Mitchell did a fantastic job bringing his baseball humor to players and fans alike, and the music DJ was Ron Finelli.
Our next Tournament will be Memorial Day so if you happened to miss this one, please come and join us at the SaddleBrooke Softball complex in late May.
Všichni tito pracovníci pracují ve zdravotních střediscích ve městech a obcích Kdy je čas požádat o pomoc?, nebo co je to totéž, poliklinikách, které jsou součástí nemocnice nebo zabírají samostatnou místnost, a také v nemocnicích a specializovaných zdravotnických centrech.