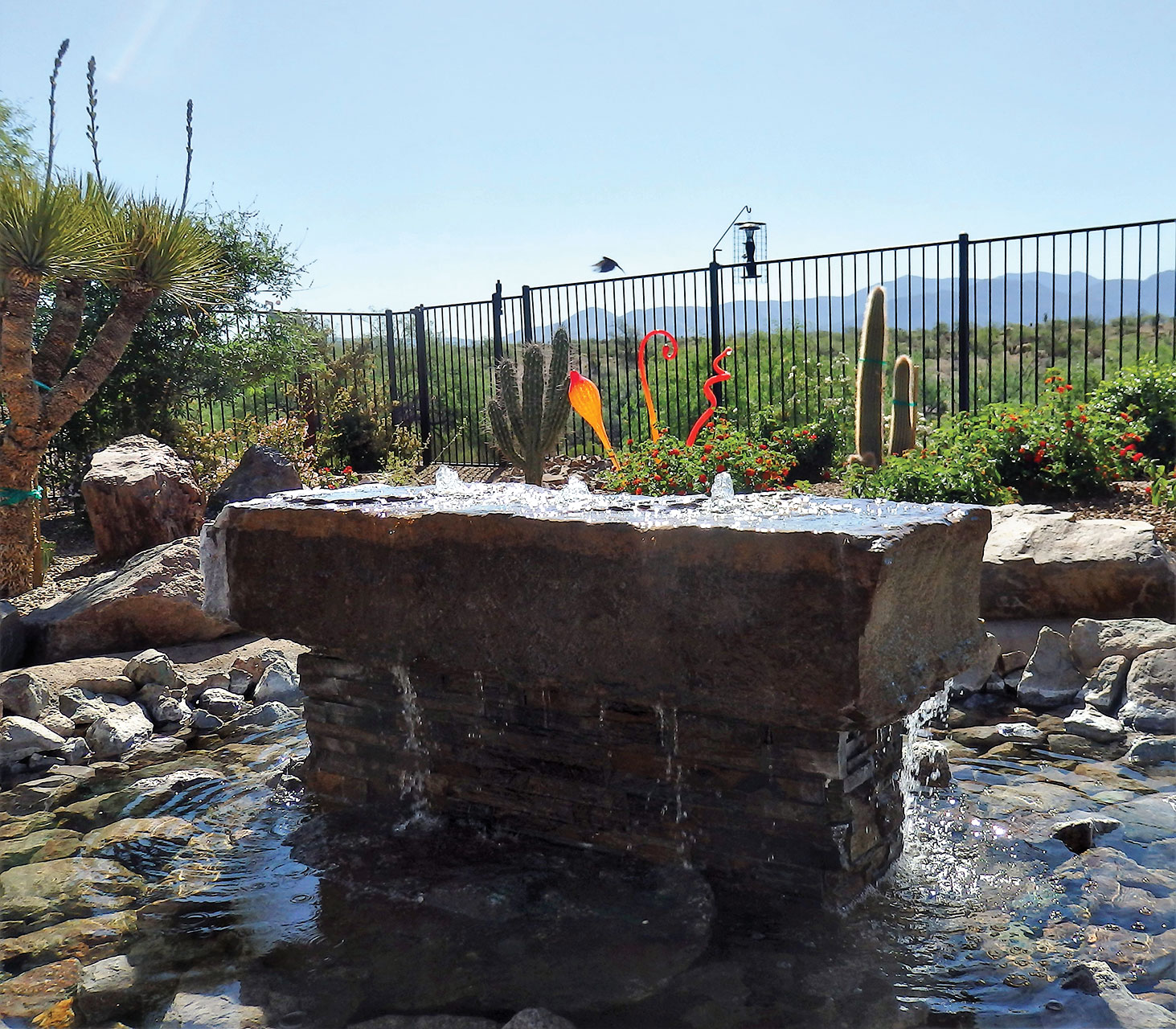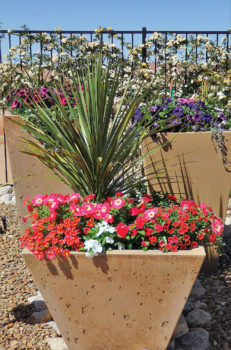 Kay Lantow, SBR Garden Tour Committee
Sunshine and blustery winds greeted SaddleBrooke Ranch residents as they toured our six gardens for three hours on Saturday morning, May 5.
As in previous years, the selected gardens provided unique insights about design, hardscape, outdoor amenities and the influences of climate, soil and water when making choices for plants and selecting landscape design and products. At least one garden demonstrated the unique artistic flair of the owner. Several gardens offer exceptional beauty by using pottery within and about the landscape.
New neighbors were surprised to learn that various fruit trees and many vegetables thrive in our desert climate. In particular, the Goldman's garden included grapes, various fruit trees and raised beds containing potatoes, leeks, onions, tomatoes and much more. The Bosky's garden demonstrated how to select cactus and other plants that eventually will need no artificial irrigation. This was especially attractive to our part time residents often known as snowbirds.
During the tour, neighbors discussed landscape design, plant selection, even critter and pest control with our gardeners. Many marveled at the special touches discovered at different gardens:
*A lovely pool coordinated with a beautiful and relaxing, shady area, coupled with a low maintenance yard.
*An exceptional fountain with fascinating high-water spouts surrounded by a combination of cactus and perennials
*A true oasis in the entry courtyard with murals painted by the owner as backdrop to comfortable seating amidst potted flowers and cactus
A week prior to the public tour, the committee members and gardeners met each other as we conducted a private tour the previous Saturday. On the Sunday evening following the public tour, the volunteer gardeners attended a dinner party hosted by the garden tour committee at Carol and Tom Andrews' home. In addition to learning about different gardening techniques, we sampled some fantastic cooking and baking talents.
Committee members offer their heartfelt thanks to our volunteer gardeners for opening their homes to their neighbors: Cheryl and Tom Pettijohn, Sharon and Steve Groth, Susan Hastings and Bob Lamar, Jeanne and Mike Bosky, Dee and Dick Fitzgerald and Bonnie and Harvey Goldman.