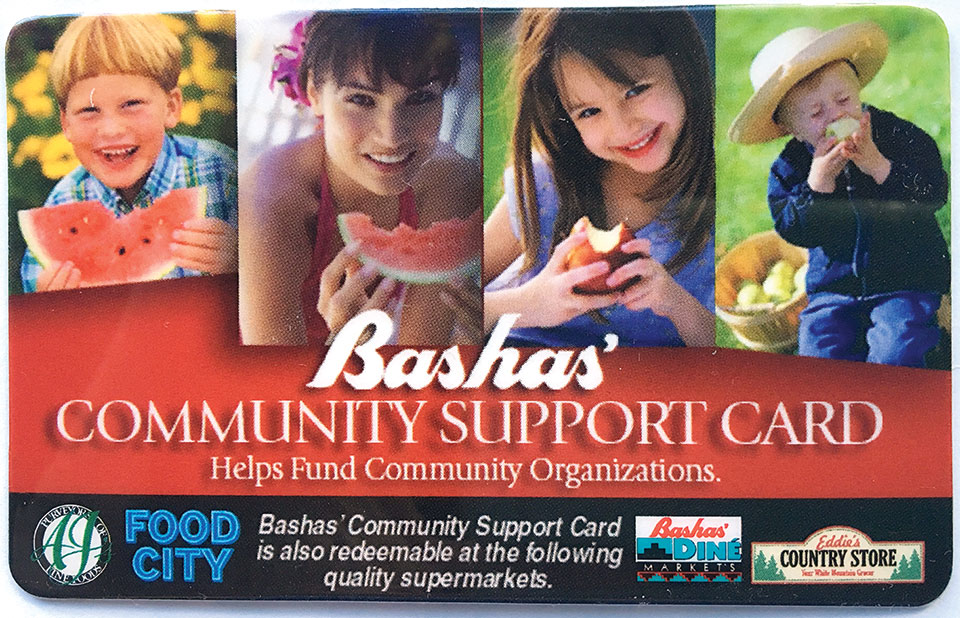 Nancy McCluskey-Moore
There is an easy way for your grocery dollars to help improve the lives of needy children in local communities. Buy a Bashas' Community Card at the SaddleBrooke Community Outreach office in Suite L at the mini-market complex on SaddleBrooke Blvd. The office is open from 9:00 a.m. to 3:00 p.m. Monday through Friday. The card, which costs $5, is pre-loaded with $5 worth of store credit and was sold to SBCO at a six percent discount.
Take your Bashas' Community Card to the customer service counter at any Bashas' store. Ask to add to the card's existing balance and pay using a debit or credit card, cash or check. Whenever you use your Bashas' Community Card to pay for a transaction at any Bashas', AJ's Fine Foods or Food City Store, six percent of your purchase goes to SBCO. So for every $100 you spend, $6 helps pay for programs that provide children with food, clothing and educational opportunities.
Whenever you have used the balance on your Bashas' Community Card you can reload it. At checkout before the cashier rings up your purchases ask to put more money on your Community Card.
Buy a card, use the card and help fund SBCO programs. It's a simple way to make your grocery dollars go further.