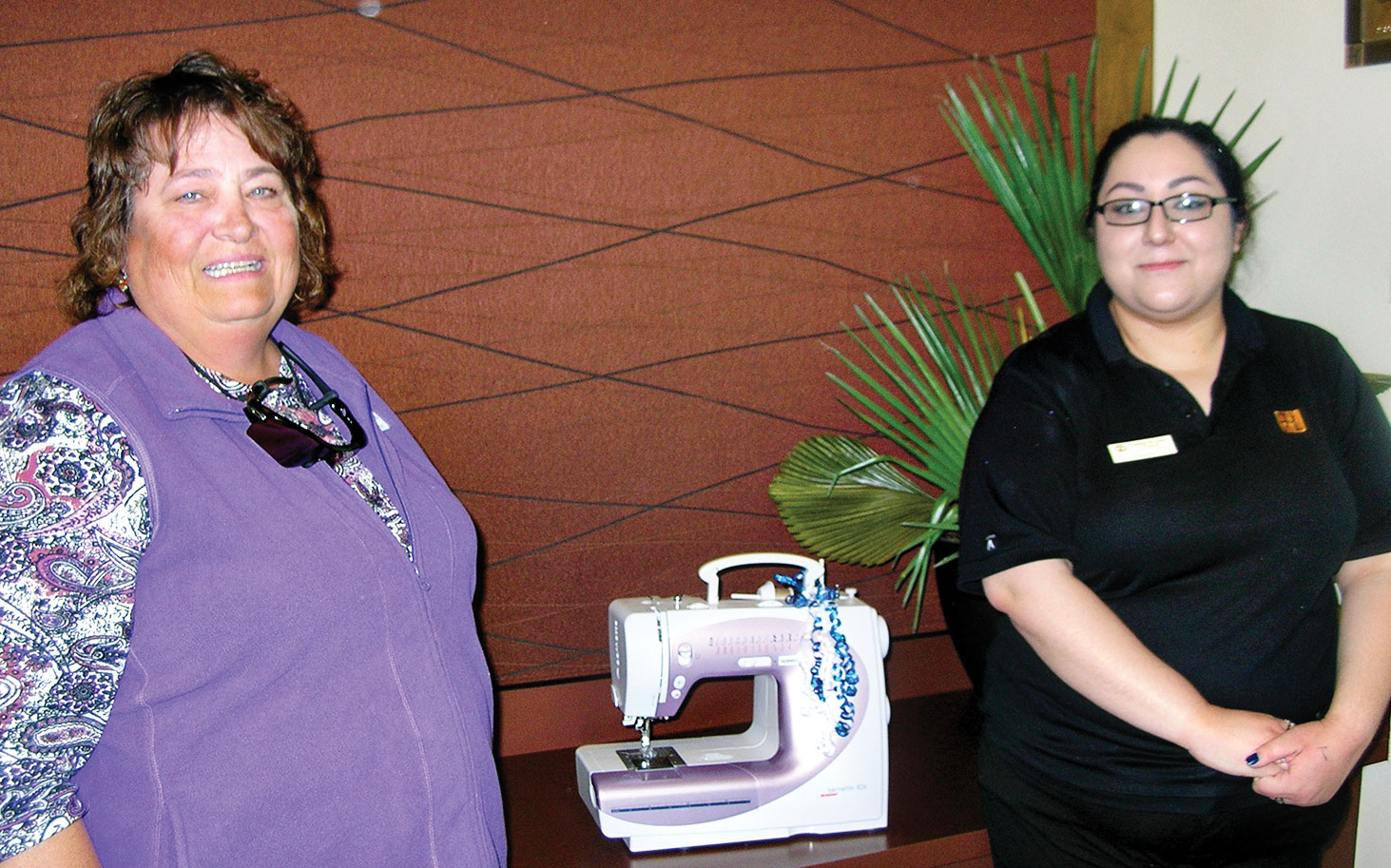 Judy Padgham
On March 3, 2015 Teens Sew Cool, Inc. held its annual meeting and luncheon at SaddleBrooke Ranch La Hacienda clubhouse. Elections were held, and the new Board will be installed at the first Board meeting of the new fiscal year on April 8. Sixteen mentors from Oro Valley, Oracle, SaddleBrooke and The Ranch attended the meeting. A sewing machine was presented to Victoria Enciso, an employee at The Ranch, who eight years ago learned to sew with Teens Sew Cool in San Manuel and then Catalina. In talking with a couple of residents, Victoria learned of their involvement with Teens Sew Cool, told them of her experience and mentioned she wanted to purchase a sewing machine. We were pleased to be able to give Victoria this donated machine.
Our talented mentors assist boys and girls ages 8 to 14 in learning and perfecting their sewing skills. When we began our program 15 years ago, it was only offered to students ages 13 to 18, hence the name Teens Sew Cool, Inc. A few years ago we invited the younger students to join us.
In 2013 we moved our Catalina program to Oracle where we continue to receive a warm welcome.
After several successful summer sessions, Impact of Southern Arizona asked TSC to join their after-school program at Coronado. In October eight students took advantage of this opportunity to learn a new skill. Impact provides the sewing machines and Teens Sew Cool provides the mentors, fabrics, etc. We are looking forward to continuing this partnership.
Our San Manuel program has been going strong since 2000. We have our own sewing room, which means we are able to leave our 14 machines set up and ready to use. Our former students know where to find us and often stop in to say hello and reminisce.
Teens Sew Cool Spring program will end the second week in April. We will hold summer sessions in Catalina and San Manuel. Teaching our youth to sew is rewarding and lots of fun. For more information regarding TSC visit www.Teenssewcool.org or e-mail Judy Padgham at [email protected] We welcome new mentors.