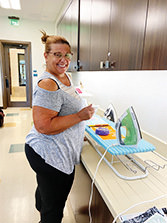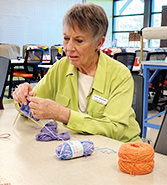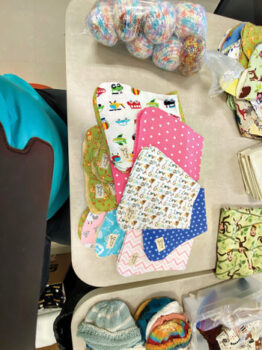 Linda Shannon-Hills
In September and October, the recently formed group, SBR Mending Souls, got to work making 12 more zippered school supplies bags during our Oct. 6 work session. We also had a project focus of making newborn and toddler items. Our members turned in eight knitted and crocheted baby caps, 15 flannel burp cloths, 16 bibs, seven baby blankets, 12 crinkle crocheted baby balls, 17 mother's hearts, one dog bed, and three pillowcases. The Mending Souls headquarters team was excited to see how much our new group has been making, not to mention the quality of work and colorful materials used to make the items.
We also collected 48 blankets, eight sleeping bags, and two comforters for the homeless in Tucson. Thank you!
Mending Souls needs bereavement bags and newborn neck pillows. Come to our work session on Nov. 3 at 9 a.m. (all day) in the sewing room located in the SBR Arts and Technology Center. Come at any time, stay as long as you are available, and bring your smiles to help us make needed items. If you don't sew or knit or crochet, you can cut or assemble for those who do.
We always need more donations of flannel kids' fabric, heavy home décor fabric, zippers, and thread, plus cotton yarn for baby items for future projects. Monetary donations are also needed to purchase specific supplies for other projects. You can bring in your donations to the sewing room on the first Wednesday of the month and on the fourth Thursday of the month, in the afternoon, and we can accept monetary donations as well as fabric and supplies. Visit us in the Needle Arts Room.
Many of the Paper Crafters made handcrafted cards and notes to celebrate community heroes and those in long-term care facilities who spend much of their time alone. These cards bring so many smiles to others in need of it the most. We received more than 70 beautifully handcrafted cards. Thank you.
Would you like to become a volunteer angel, making a difference for someone in need? Volunteering brings joy to our hearts. If you don't sew, knit, crochet, papercraft, or embroider, we need other volunteers to cut out and assemble kits for others to make, organize projects, take items to the Mending Souls headquarters, and so much more. Contact Dian Gowen at gowe[email protected] or Linda Shannon-Hills at [email protected].
Once you read about the great work done by Mending Souls, you will want to become a volunteer angel as well. Visit www.lovemendingsouls.org to find patterns for all the 30 projects to make on your own or to donate directly to their program.