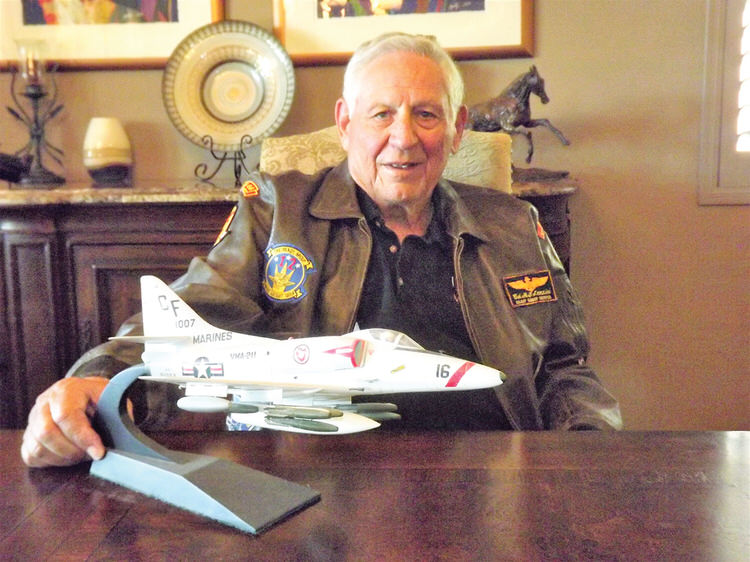 Jan Christensen
Born in Evanston, Ill., Colonel Martin J. Lenzini received a degree in mechanical engineering from the University of New Mexico in Albuquerque, and later received an Aeronautical Engineer's degree in aerothermodynamics from the Naval Postgraduate School in Monterey, Calif.
Commissioned in 1961 as a Marine Second Lieutenant through the ROTC Program at the University of New Mexico, Marty began a 26-year career in the air-element of the Marine Corps. Designated a Naval Aviator after flight training in Pensacola, Fla., he served as an Air Intelligence Officer of various Marine Attack Squadrons flying the A-4 aircraft.
His personal awards include: two Legions of Merit, 24 Air Medals, and four Distinguished Flying Crosses (DFC), the nation's highest award for heroism in aerial flight. He flew the A-44 aircraft in 350 combat missions in Vietnam and during this 13-month time period was promoted to Major in December 1968.
Marty served in the Flight Test Division, Naval Missile Center, Point Mugu, Calif. He loved flying the A-4, A-6, A-7, and F-4 planes as a project test pilot in the Attack Weapons Branch and as Project Officer for such projects as the Walleye, Bulldog, and Shrike missiles and the A-4M Guided Missile BIS.
After serving in Okinawa, Japan, he reported to Newport, R.I., entering the Command and Staff course at the Naval War College. Upon completion, he was ordered to the Office of the Chief of Naval Operations, Washington, D C., as Assistant for Close-Air-Support Weapons, Tactical Air, Surface, and Electronic Warfare Development Division. While serving there, Marty was promoted to Lieutenant Colonel.
Marty served at Headquarters Marine Corps as Program Development Officer until his assignment to the War College in Ft. McNair, Washington, D.C. After a tour with Marine Ground Forces and while serving here, he was promoted to Colonel.
In 1983, Marty served as Commanding Officer of the Marine Aircraft Group 12 in Iwakuni, Japan, flying the A-4, A-6, and A-7 aircraft. He transferred to Headquarters Marine Corps (HQMC) in 1984 as Executive Assistant to the Deputy Chief of Staff for Aviation and later as the Head of the Plans, Programs, Budget and Joint Doctrine Branch of Marine Aviation at HQMC (APP).
Retiring from the Marines in 1987, Marty started working in Canoga, Calif., for Hughes Aircraft Company in the Strike Weapons Advanced Programs. When Raytheon Missile Systems bought out Hughes Missiles, Marty moved to Tucson, Ariz., working many significant assignments, including the Maverick International Program. He retired in 2009.
Marty and his wife, Alice Ann, enjoy the lifestyle at SaddleBrooke Ranch. Marty loves the weekly Friday Pilots lunches at Tucson's Hacienda Del Sol. The pilots just completed writing a book called, "On the Wings of Geezers, Life Lessons from Old Pilots." Each chapter is written by one of the pilots, Marty included. Five dollars of the proceeds goes to The Fisher House, which provides housing for families while their veterans are hospitalized at the VA hospital in Tucson, Ariz.