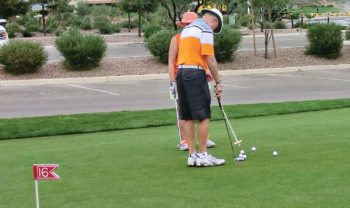 Tom Graham
The SaddleBrooke Ranch Golf Club in conjunction with the Women's Golf Association and the Men's Golf Association held its first community wide special event. Forty-eight two-person teams were placed in four flights for a Ryder Cup style event over two days in August. Each nine holes challenged the teams to a new game. The games included best ball, alternate shot, scramble and, of course, a total net score per team. All team scores were posted to the board.
At the end of the tournament the board was dominated by red numbers. Special performances were witnessed across the flights. Low score honors day one went to Janice and Terry Mihora with a score of 60.7. Day two honors with a score of 92 went to the team of Michael Sosin and Bill Lockett.
The field of 47 teams competed valiantly over the two days. Thirty-six of the teams completed the two days below par. The Spieth flight was remarkable in that all teams were below par over the two days. Team performances did meander over the outward and inward nines. One memorable performance was six birdies in the first seven holes on day two along with pars at eight and nine. Only the tough second hole pushed them to a three under finish on the outward nine. Congratulations go to Mark Klicker and Tim McCauley. There is nothing quite like witnessing a birdie binge.
The Flights and the Winners; Congratulations to all!
Johnson Flight: 1st Jeff Pharr and Greg Byrne; 2nd Bill Moore and Mick Anna; 3rd Jean Cheszek and Kathy Brennan
Spieth Flight: 1st Brian Kerley and Dave Hansel; 2nd Steve Schneck and Neil Hartman; 3rd Ed Nasalik and Craig Powers
Fowler Flight: 1st Michael Sosin and Bill Lockett; 2nd Paul Knott and Melanie Timberlake; 3rd John Huard and Gary Wilson
Couples Flight: 1st Janice Mihora and Terry Mihora; 2nd Mike Eby and Larry Bickelhaupt; 3rd Terry Pettijohn and Michael Movius
Many thanks to Jean Cheszek, Harley Schlachter and their teams. A great field was assembled with a format that kept competition at a high level. It's looking like a new event may be added to our annual special events calendar. Added thanks to all the competitors as it is up to you to make an event special.