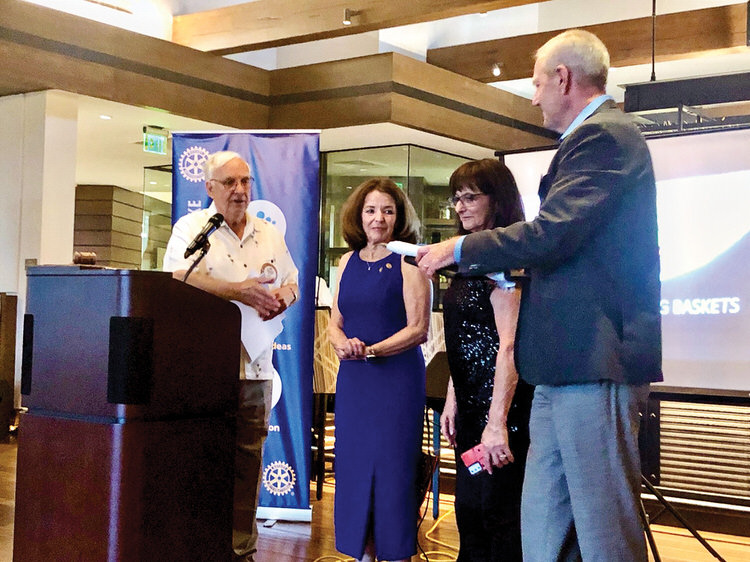 Joe Guyton, Liese Razzeto, and Barbara Barr
At a fantastic dinner and dance banquet held at the SaddleBrooke Ranch Clubhouse, Liese Razzeto was inducted as the new president for Rotary Club for 2021–22. At the annual "Passing of the Gavel," outgoing President Joe Guyton was joined by Rotary District 5500 District Governor Diane Ventura-Goodyear and Assistant District Governor Marc Snow to present Liese with her induction badge and Rotary pin.
Liese has been a Rotarian for more than 30 years. She transferred to The Rotary Club of SaddleBrooke in July 2019 from the Coeur d'Alene Rotary Club in Coeur d'Alene, Idaho. She served as that club's president in 2003–04, and also served as an assistant district governor for Rotary District 5080 in 2005.
Liese said that Rotary has been the most unexpected passion of her adult life. She values the opportunity to work beside other dedicated members in her community to change the lives of others by living the Rotary motto of "Service Above Self."
Liese retired as a senior vice president and regional president for Wells Fargo Bank in Coeur d'Alene. She served as chair of the board and trustee for the Kootenai Hospital District. She also served on local and regional boards including the American Banking Association and the Idaho Bankers Association.
Liese and her husband Mike now reside at SaddleBrooke Ranch. She enjoys golf, cycling, and hiking. She is the mother of four and is expecting two grandchildren at the end of this year.
President Guyton also presented annual awards for excellence and for service. SaddleBrooke Rotary Club Foundation President Gary Terrell was presented a Service Above Self recognition plaque for his three years of service as foundation president. The 2020–21 President's Award was presented to Fore for Kids Golf Tournament Chairman Gordon Wainwright for his "Service Above Self." The Rotarian of the Year Award was presented to Bre Zientarski. Bre was instrumental in identifying, organizing, and implementing the club's outstanding community service program during this very challenging COVID period.
Immediately following the program and induction, members and guests were entertained by Chuck Moses, with dance music covering a broad range of musical years. Past president Barbara Barr led the dancers in the "Cupid Shuffle." A great time was had by all!
The Rotary Club of SaddleBrooke is not only an award-winning organization devoted to making a difference locally and globally, it is also a club that enjoys coming together for lunch and life-long learning. This summer we meet weekly at the Board Room at the Ranch House at SaddleBrooke Ranch and on Zoom. Plus, we enjoy getting together for social events and service projects. We have fun making a difference.
The Rotary Club of SaddleBrooke is open to anyone who is living or working in SaddleBrooke Ranch, SaddleBrooke, Oracle, Catalina, Oro Valley, and all surrounding communities. For more information, contact Wendy Guyton at 520-404-5712 or [email protected]