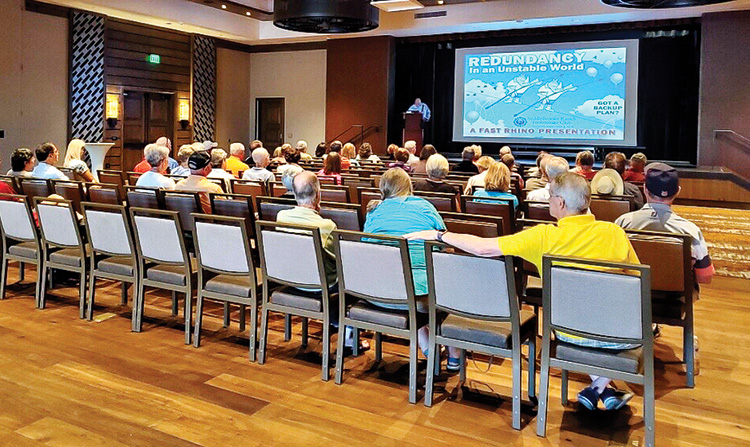 Linda Shannon-Hills
I was talking to a neighbor the other day about the Technology Club and the various workshops, open discussions, special interest groups, and open lab assistant. They said they had not joined because they thought the club was just for really techie people or geeks. At first I said yes, it is for techie people as we have special interest groups (SIGS), which talk about smart home devices and how to continue to automate their home. There is also a group called DIY/Maker, talking about Arduino and Raspberry Pi projects which provides a basic understanding to build your very own projects for the first time. They are also working on making 3-D objects and talking about the future of 3-D for the real world.
But, the Technology Club also has a lot to offer to the novice computer or smartphone user. In the past few months, we have given Mac for Beginners workshops as well as PC for Beginners, helping beginners to better understand how to use their computers and be more productive. The plans are to have more workshops for Mac computer, PC computers but also get into the iPhone and Androids as the technology is changing quickly.
The Tech Club also offers special interest group discussions on apps for your smartphone, options for cutting the cord on your television and video entertainment, plus a new open discussion on Artificial Intelligence and how it plays in our everyday lives.
There have been beginner Microsoft Excel workshops, Microsoft Word tips and tricks, several sessions on using Next Door. On the planning side, will be workshops on GroupWorks usage and how leaders can use GroupWorks to help their clubs and organizations.
Although we have some techies in the club, many of those techies are monitors and mentors for our other club members. The technology room is open several days during the month for club members to come in for assistance with their computers, or software challenges, connecting hardware together, using their smartphone cameras, and so much more. Many members have told me they gained so much from the help of our mentors.
So, if you have not joined the SaddleBrooke Ranch Technology Club, you should join us as we continue to offer more workshops, classes, open discussion, and open labs.
Visit our website to learn more about our club, www.sbrtechnology.club.