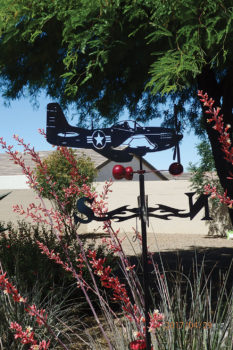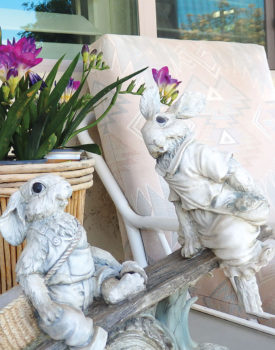 Kay Lantow
After several days of increasingly warming temperatures and high winds, SaddleBrooke Ranch residents were greeted with sunshine and gentle breezes as they toured our seven gardens for three hours on Saturday morning, April 29.
Each garden provided unique insights about design, hardscape, outdoor amenities and the influences of climate, soil and water when making choices for plants and selecting landscape design and products. A few tourists were surprised to learn that various fruit trees and many vegetables thrive in our desert climate. One gardener demonstrated how to select cacti and other plants that need very limited irrigation or maintenance. Several gardens were designed for low maintenance while offering water features and seating areas that promote enjoying the beauty of the desert climate.
During the tour, neighbors discussed landscape design, plant selection, even 'critter' and pest control with our gardeners. Many marveled at the special touches discovered at different gardens:
A metal WWII Spitfire weather vane
A blue metal quail to greet neighbors along the pathway
A pair of ceramic bunnies guarding colorful freesias on a garden table
The committee members and gardeners met each other when we conducted a private tour the Saturday prior to the SBR tour. One gardener mentioned that seeing what others had done, what plants worked or not, inspired him to assess and somewhat re-organize his own garden.
On the Sunday evening following the public tour, the volunteer gardeners were hosted to a dinner party by the garden tour committee at Carol and Tom Andrews' home. In addition to learning about different gardening techniques we sampled some fantastic cooking and baking talents.
Recently Zann Wilson, a committee member, learned that Phyllis Reblin, one of our volunteer gardeners, was contacted by neighbors who were unable to attend. Apparently those residents who were able to tour the gardens were particularly impressed with Phyllis' amazingly abundant landscape of trees, edible plants and extraordinary palette of beautiful perennials.