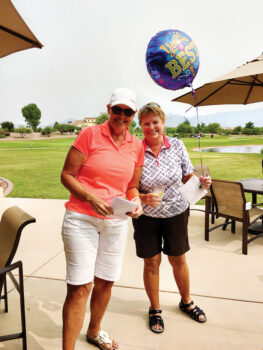 Beth Chamberlin
July and August are super hot!
The ladies wondered, should we golf, or not?
Jean came to our rescue, she had a plan
Yes, we should play. As much as we can!
The Dog Days of Summer was chosen as the theme
Would some of the ladies take it to the extreme?
Every team had to choose a creative name
Points would be earned, it was part of the game
Let's decorate the carts that will be fun
The ladies got it done, one by one
Chicas Calientes, Bow Wow Babes & Birdie Dogs
Would they find decorations in catalogs?
Par Tee Dawgs, Hottie Dogs & Muddy Paws
Each of the carts would earn some applause
Every week Jean chose a different game
She knew it would boring if were always the same
Skins, scrambles, cha cha chas & blind nine
Didn't play well? That's okay, have a glass of wine
Stableford, Strike Three, Two Dogs and a Treat
Closer than a collie, now that was a feat
Chapman, seeing eye dogs, five & five
Each week we wondered, which team would thrive?
We all competed for a total of eight weeks
Plenty of time to show off our techniques
Every Saturday night we looked for that email
Would we celebrate, or would we wail?
Today was the last day, we will find out the winner
Which team will celebrate with a yummy dinner?
We had so much fun competing all summer long
To not recognize Jean would be totally wrong
The point of this poem is to thank you Jean
We hail to you, the Ranch golf queen