Unit 6 Whiskey and Brew Tasting
Linda Chase
Unit 6 residents participated in a fun-filled evening of whiskey tastings hosted by Bill and Jackie St. Clair. Unit 6 residents also enjoyed the beautiful SaddleBrooke Ranch scenery outside while sipping cocktails and chatting around the St. Clair's outdoor fire pit.
It was another hugely successful Unit 6 event, and a fantastic time was had by all!
Unit 8A "Dancing in the Streets" Block Party
Maia Schenkel
On April 9, Unit 8Ars gathered together for their 4th annual Block Party up and down Tamarisk Place.
Seventy-seven Unit 8Ars and guests were welcomed by an afternoon of bright sun, windy weather, and a street lined with games. In addition to favorite regular games of Cornhole, Jenga, Ladderball, BIG Dice, and Tropical Bowling (with coconuts and pineapples), guests also enjoyed lots of line dancing in the street. Music and entertainment were provided by Gus "D" and Ms. Gina, D.J. extraordinaires.
The BBQ dinner was home-made and required a herculean group effort from the planning committee, spouses, and others. Kevin Hand smoked pork shoulders throughout the night and into the wee morning hours, and Bob Townsend prepped bratwursts and onions. George Patterson stepped in to finish barbequing the brats while others prepared side dishes and set up the food buffet, including cole slaw, green salad, chicken wings, and all the fixings. Afternoon snacks and casual desserts were also provided.
Because there was such an outstanding turnout and the committee worked together as a team, income exceeded expenses. Unit 8Ars generously chose to contribute the balance to the SaddleBrooke Community Outreach (SBCO) and Tri-Community Food Bank (TFB).
Organizing committee and hosts were (but not limited to): Debbie and Steve Chapman, Kate and Paul Thomsen, Judie and Bob Townsend, Evie and Roy Thompson, Linda and Frank Sherfy, Kathy and Tom Tossey, Maia Schenkel, Kevin Hand, George Patterson and Shelley Ziegler, and Terri and Rick Vossekuil. Thanks to all for the tremendous group effort and another highly successful Block Party!
Unit 8A Golf Competition Continues
Bob Townsend
On April 19, Unit 8A held their 6th Annual Rick Dahlin Memorial Scramble Golf Tournament at the SaddleBrooke Ranch Golf Course. With wonderful weather and magnificent teamwork, a great time was had by all. This year we had four teams swinging it out, golf clubs that is, to see which team would take home the gold. The team with Bill Oprish at the helm (captain) and his teammates Marvin Soskil, Gerald Fox, and Clarke Latimore earned those honors to take home the first place traveling trophy. Following very closely behind them was the second place team headed by Bob Authur and his teammates Frank Sherfy, Marty Keznovich, and Rick Vossekuil. Other winners for the day included John Whitehead and Bill Oprish for closest to the pin on two holes, taking home golf towels with the 8A logo and Rick Vossekuil, who had the longest drive of the day taking home golf balls, tees, and a golf hat with the Unit 8A logo.
To add to the day's excitement, Denise Doepke and a group of wives provided the cheering section from Denise's backyard on the 18th hole.
The exciting day ended in typical Unit 8A fashion with spirits, awards, and bragging rights. Socializing was held on the Bistro patio after the tournament for players and their spouses.
Thanks go out to Bob Townsend, Bob Authur, Stan Doepke, and John Whitehead for their combined efforts and expertise in putting on the tournament.
Unit 14/14A Street Party
With clear skies and a light breeze, April 7 marked the occasion of the SaddleBrooke Ranch Unit 14/14A Street Party 2022. An informal gathering of villa and homeowners alike, the end of S. Canyon Vista Way was the location of friends and neighbors hailing from all sides of the street, bringing food, beverages, appetizers, live music, and a surprise guest appearance by Mr. Ed Robson!
Approximately 35 people attended the festivities. Mr. Robson, in his famous stretch black Escalade, was warmly greeted and welcomed to the party. Many residents had the opportunity to talk one-on-one with him. Unit 14/14A expressed their gratitude to him for his hands-on development of our (his) beautiful community. When Unit 14/14A has a party, they attract the best!
Unit 21A's Second Get-Together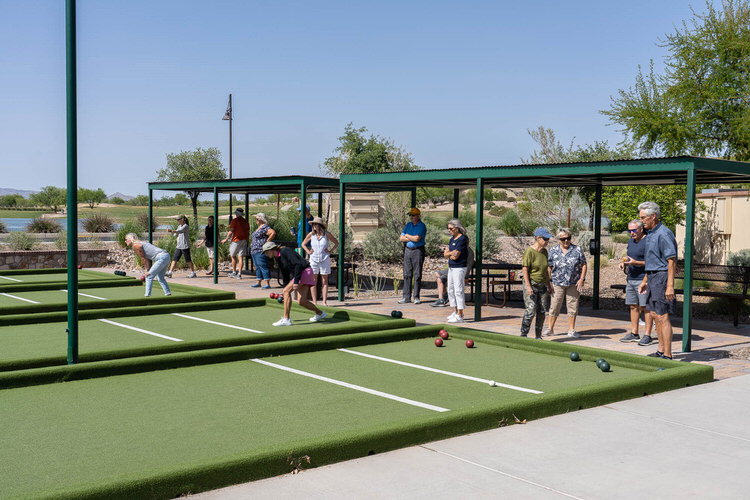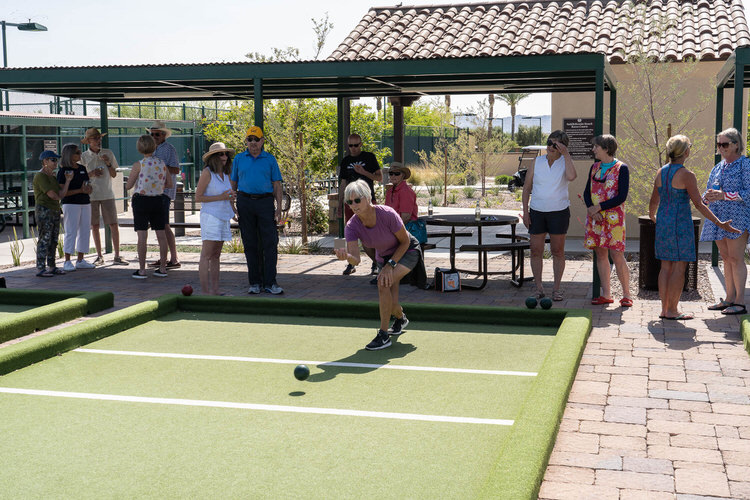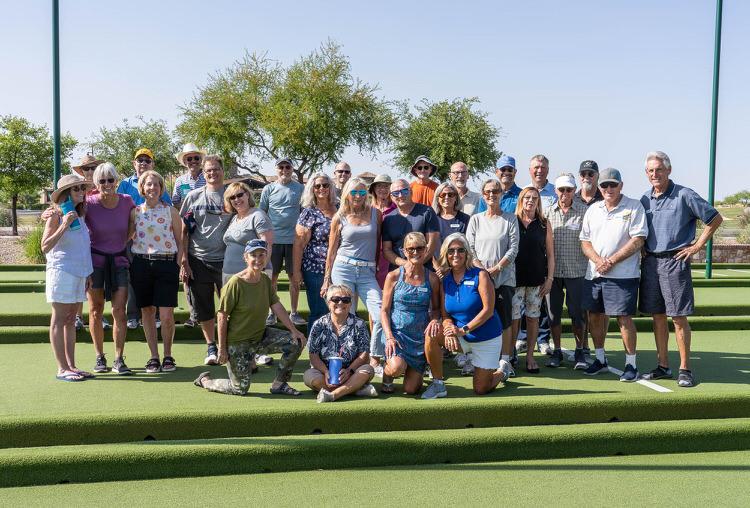 Julie Dzekute
We had a fun gathering to welcome our new villa neighbors to Unit 21A for an afternoon of bocce ball, treats, and conversation. It was a beautiful day, and a good time was had by everyone.