16B Lights Up for Annual Golf Cart Parade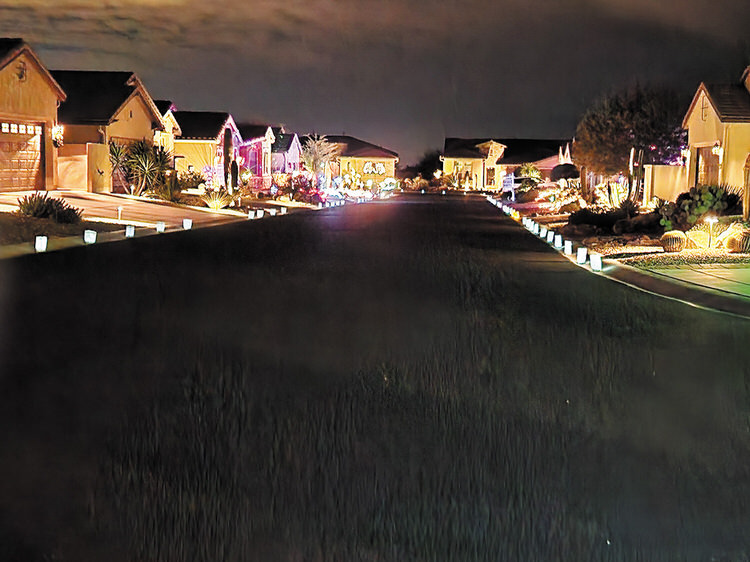 Laurie McCoy
Every year Unit 16B loves to light up the holidays. We thought: how do you top Roxanne and Pete's holiday light extravaganza? Or Bruce and Sherann's candy delight? Or another past favorite, the Arizona snowman in Pam and Tom's yard? We can top this! Let's unite and make the entire unit shine. As always, 16B is up for a challenge and as usual it was met with energy, research, and cold hard cash.
"Let's put luminaries around the entire neighborhood" was the cry! Followed by "It is easy! All we need are bags, sand, and candles." It sounded so simple when first laid out. What could go wrong? This was the first phase of energy.
Luminaries' origin is believed to be from Spain, where luminaria means "illumination." Small bonfires were lit to light paths to churches on Christmas Eve. Traditional luminaries came from Mexico before spreading to the United States. Their popularity has grown in recent years, especially in New Mexico where they are used to welcome travelers to churches, inns, and homes, particularly in the traditional Pueblo areas.
The first trial of what the luminaria bags would look like and how far to distance them occurred in early October. Activity Committee members voted on distance and look. For safety, it was decided to use battery operated tea lights, rather than candles, and they looked best 7 feet apart. After a quick calculation by our resident engineer, it was determined that we would need about 600 bags to light Happy Jack and Dead Wood Trails and One Horse Lane. Neighbors generously donated cash to purchase the supplies. White bags were ordered and bright LED tea lights were chosen to light up the night. After the bags arrived, neighbors began folding the bags to allow them to stand open on the night of the parade.
As the day of the parade approached, the final plans were developed. Volunteers would gather at the Watson's and McCoy/Campbell's driveways, and using gravel or rocks from each yard, they set up the bags the morning of Dec. 17. Later that afternoon, volunteers again would gather to drop the lighted tea lights into the bags. We were ready.
On that day, like the Whos from Whoville, neighbors left the warmth of their homes to gather and execute the plan. Golf carts, pedestrians, and dogs covered the unit with bags in hands. The quality control team walked the area after bag placement, and by 5 p.m. the lights were lit, dropped, and luminarias were born. Soon, David Musgrove's drone arrived to photograph the unit. It was a beautiful site! Once again 16B stood out as a highlighted neighborhood during the parade.
You may wonder what we have up our sleeves for next year? That is our little secret.