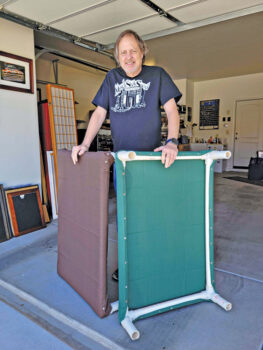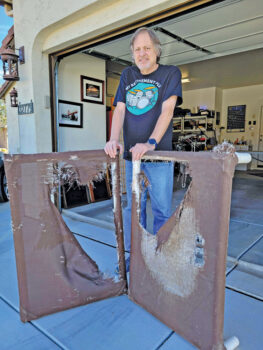 Joy Wegner
Quietly, without fanfare or proclamations, Tim Daviess, a resident of SaddleBrooke Ranch, is a hero to the dogs at the Pinal County Animal Care and Control shelter.
Nearly every week, Daviess repairs torn and worn dog beds used for the Shelter's kennels. The beds are brought to the Daviess garage at the Ranch by SaddleBrooke volunteers who walk dogs at the shelter. Upon delivery, he removes the torn mesh covers, hoses down the PVC bed frames, and sets them to dry and sanitize in the desert sun. After a few days, Daviess removes the screws that hold the edges of the covers on the frame, makes any repairs to legs and cover stabilizers that are needed, then uses the same screws to attach a new mesh cover to the bed.
The volunteers periodically pick up the "renewed" beds and return them to the shelter, located near Casa Grande. Currently, this process maintains about 65 beds for the shelter.
Daviess has become an integral member of "the dog bed team" that was formed in 2018 in SaddleBrooke. Bud Wegner, a resident of SaddleBrooke, designed the dog beds specifically for the shelter, so that the beds could be easily and inexpensively repaired and used many times. They are elevated to give shelter dogs a place to rest off the concrete floors of the shelter, and the mesh covers allow for air circulation and easy cleaning with a hose. More than 35 donors to the original project contributed funds for the initial supplies purchase, and some of those donors continue to fund the replacement covers each year.
In early 2020, Daviess responded to the call for volunteers to help maintain the dog beds, along with David Bull of SaddleBrooke. Daviess and Bull worked together on the repairs for just two weeks before the COVID lockdown guidelines prevented them from working as a team. Daviess has continued the repairs for the past two years. When asked why he responded to the need, he said, "I love animals, but I cannot have them in my home due to allergy issues in my family. This is a way for me to stay busy and help the shelter animals. Plus, I get to work at my own pace, in my own garage—what a great working environment!"