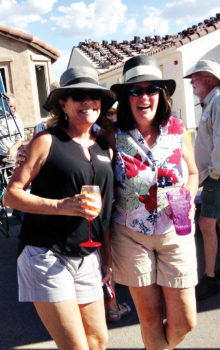 Camille Esterman
In spite of triple digit temperatures, residents of 4B celebrated the second annual 'End of Summer' ice cream social at the foot of Egret Trail. Hosts Debbie and Craig Schreiber scooped out the cool vanilla and chocolate treats, while attendees brought beverages, chairs and an item to share.
Tables were full of goodies and toppings including fresh fruit and berries, chocolate and caramel syrup, crushed oreos and peanut butter cups, chocolate chips and sprinkles, whipped cream and maraschino cherries. Angel food cake, hot apple pie, red velvet cake and assorted cookies created more yummy decisions. Coolers of water provided needed hydration.
Waffle cones and bowls served as the perfect containers for self-made sundaes. Many residents went back for seconds but who's counting! One resident was heard attesting that her sundae was a healthy meal, because it was colorful, topped with lots of multi-colored M&Ms.
Wet wipes helped folks eliminate the sticky residue on their mouths and fingers. But nothing could eliminate the smiles on our faces as we all enjoyed visiting and meeting new neighbors, thanks to the efforts of Debbie and Craig.