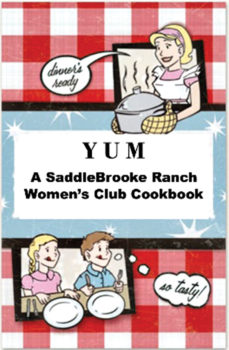 Kim Schweitzer
What began as a 'half baked' idea at a neighborhood gathering became a win-win for Ranchers and kids alike.
For nearly a year the committee collected recipes. And, in they came. Spaghetti pie, Minnesota hot dish, hot crab crostini, spuds a la elegant, apfelstrudel, stuffed squid, Japanese ramen salad, chicken Waikiki Beach, Seattle chicken, thumbprint cookies and 260 more. These are just some of the delicacies from all over that bring this cookbook to life. I am in awe of the amazing cooks we have at the Ranch. Thank you to those who generously opened their hearts and cookbooks and shared their yummy recipes.
The committee presold 127 books which provided the seed money to get this project off the ground.
In the end we sold 339 books, our entire inventory! Our profit was over $2000, half going to SaddleBrooke Outreach.
Our cookbook's mission is to connect as a community by sharing recipes from each other's traditions and memories and at the same time, bringing comfort and warmth into our new homes.
I hope we did a little bit of that and more.
Thank you to these wonderful women of SaddleBrooke Ranch Women's Club who cooked this cookbook up together: Marian Bianchini, Zenia Fera, Leslie Gordon, Sharon Groth, Monica Gustafson, Jackie Levitt, Donna Pedota, Susan Swanson, Linda Volz, Jodee Weiland and Linda Whittington