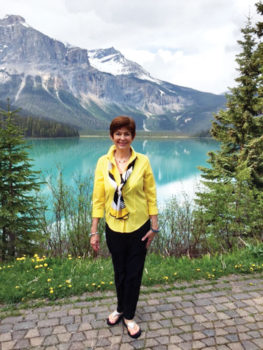 Terry Barringer
The Women's Ministry of the Community Church at SaddleBrooke invites you kick off the New Year by joining us in the study of the book of Hebrews. At a time when Christians around the globe are being persecuted for their faith, Hebrews is a must-read. The anonymous author confronts Christians of his day who were being persecuted for their faith and were on th.erge of giving up. After reminding them of the amazing truth of who Jesus is and what He has done for humanity, he demonstrates giving up is never an option for any believer of any age. Jesus stands alone among all gods as the only one uniquely qualified to be our wonderful Savior!
International speaker and teacher Susie Gannet will be leading this study. If you have studied under Susie Gannet you know what a dynamic teacher she is and how adept she is in making the Word relevant to your life today.
To accommodate your schedule this class will be offered on Tuesdays and Wednesdays. Register early. Space is limited and classes fill quickly. The Tuesday class will meet from January 16, 2018 to March 27, 2018 from 9:00 to 11:00 a.m. in the SaddleBrooke One Activity Center located at 64518 Galveston. The parking lot by the activity center is limited to handicap spaces and carpoolers. Please use the parking lot by the tennis courts and use the ramp for access to the activity center.
The Wednesday class will meet January 17, 2018 to March 28, 2018 from 9:30 to 11:30 a.m. in the Parish House located at 36768 S. Aaron, Tucson. Parking is limited; carpooling is encouraged.
The Book of Hebrews will be explored using the SOAP journaling method of study. This method will allow you to select .erse in the week's reading and apply its lesson to your own life. If you have previously participated in a SOAP study you may use the journal from that study.
The cost of the study is $5 for those with a journal and $15 for those who will need one. Your check, made payable to CCSB, should be mailed to CCSB, 36768 S. Aaron, Tucson, 85739. Please include your name, e-mail address and telephone number. Should you have any questions please call Jeannie Jensen at 520-818-3030 or email her at j6700670@sbcglobal.net.
CCSB is an all-denominational group of believers meeting at the DesertView Theatre in SaddleBrooke every Sunday morning at 8:30 a.m. All are welcome.