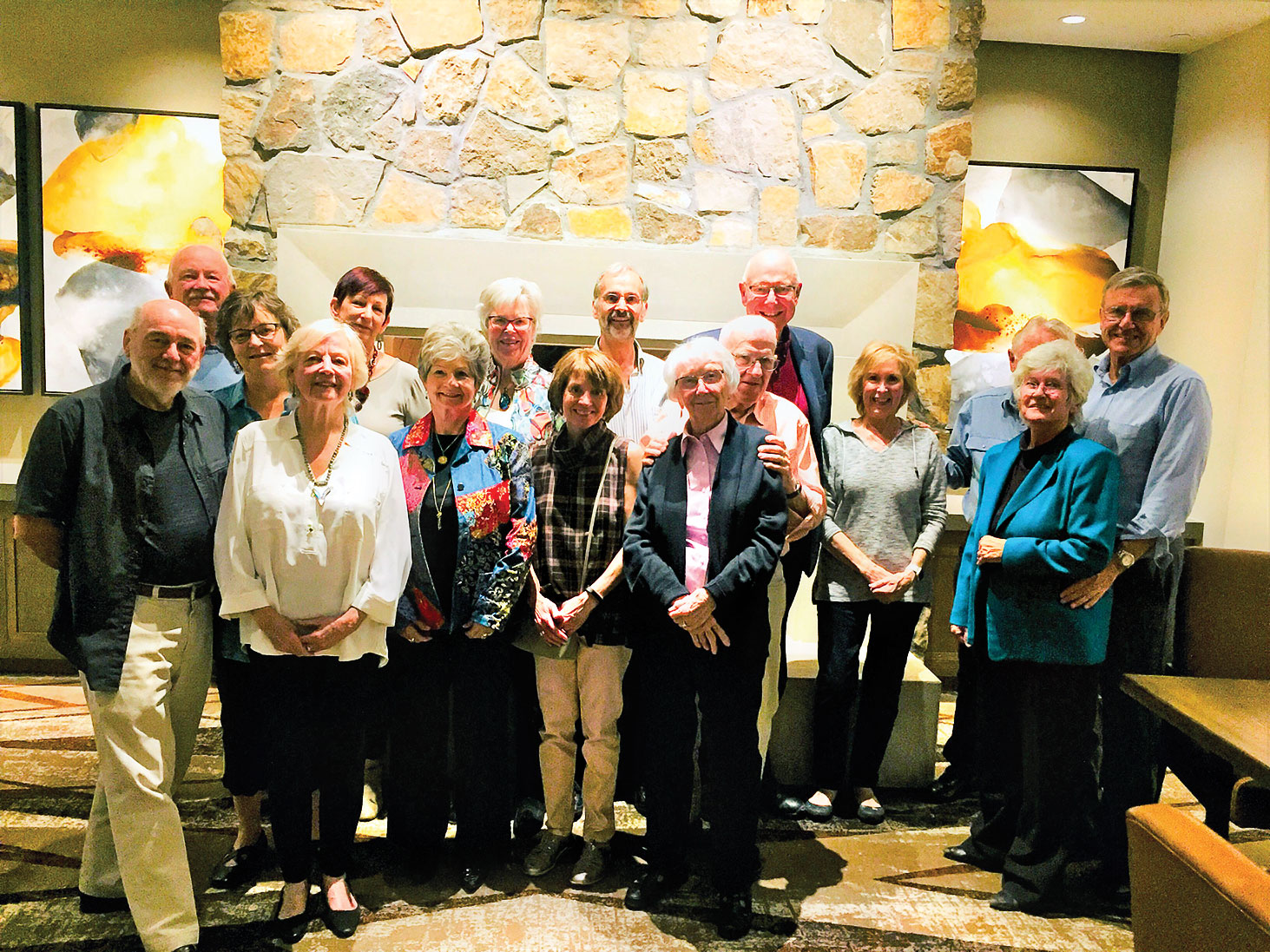 Twink Gates-Zimdar, Publicity
Fourteen members of the British Club met at The Ranch Grill in SaddleBrooke Ranch for an evening of dining and chatting. We were pleased to introduce a potential new member and his wife. Martin is from Chester and married to Margaret who was born in Chicago.
A few of us had a tour of the new activity building, the new ballroom and the restaurant before settling into the private dining room. It was so inviting with the gas fire flickering. Martin was instructed to guess where people were from by listening to the different accents! Yes, you can often tell where in Britain a person is from by listening to their speech.
The dinner was excellent! The cioppino pasta was the most popular dish and then the chocolate cake dessert was so big everyone at the table had a spoonful!
It was a delightful evening!
Everyone thanked Shelia Bray for organizing this fun event.
Every second and fourth Friday of the month the British Club has a social event in the bar area at SaddleBrooke Clubhouse which includes the following activities: Canasta, Mexican Train and maybe Bridge from 1:00 p.m. until around 4:00 p.m. This is followed by a social hour and a bar meal.
For membership information contact Joan Reichert at 720-375-5516 or nanny471055@gmail.com.
Membership is open to any person who was born in Britain or The Commonwealth or holds or has previously held a British passport and is a current homeowner of either SaddleBrooke One, SaddleBrooke TWO or SaddleBrooke Ranch.
The member's spouse or partner may be of any national origin.
The British Club now has 35 members from the following home towns:
England: London, Brighton, Bradford – West Yorkshire, Coventry, Cambridge, Didsbury (Manchester), Battle – Sussex, Dingle and Atherton – Liverpool, Newcastle-Upon-Tyne, Louth and Uttersby – Lincolnshire. Felixstowe, Bristol, Cowley – Oxford, Ashbourne – Derbyshire, Southsea – Hampshire, Wigan, Leeds and Newbury, Berkshire Nr. Highclere Castle (Downton Abbey).
Isle of Man: Douglas and Foxdale
Ireland: Limerick City
Scotland: Glasgow
Wales: Blaenavon, Swansea – Glamorgan
Canada: Rossland – British Columbia, Calgary – Alberta, Sault St.Marie – Ontario,
France: Loches, Loire Valley
U.S.A.: California: San Francisco, King City, Yorba Linda, Chicago; Massachusetts: Needham; New Jersey: Nutley; Montana: Billings; West Virginia: Elkins, Beverley.