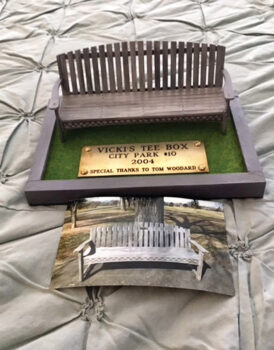 Vicki Godbey
Hi Ranchers, I'm Vicki Godbey. Some of you may know me through the Ranchette Putters and other golf groups at SaddleBrooke Ranch. For a recent birthday, I had a very nice surprise from my husband—a bench! Big deal, you say. Well, here is the rest of the story.
In early 2004, I was playing golf at City Park Golf Course, a 109-year-old course in Denver, Colo., which was located 15 minutes from our 1883 loft in the Lower Downtown Denver area. It was our go-to course for a quick nine after work and my weekly ladies' foursome.
One afternoon after golf, I was having lunch in the clubhouse when head golf professional, Tom Woodard, entered the room. I approached him and inquired if it would be possible to build a forward tee on hole number 10. Ten was a long uphill Par 5, with the forward tee very near the white markers, making it extremely difficult for women and seniors to reach the green in less than five strokes.
Tom replied, "Give me 30 days." Thirty days passed with no new tee. So, again in the dining room, I approached him and said, "Hey Tom, where is my tee box?" He asked me for 30 more days. Thirty days later, a new tee box appeared 75 yards forward from the previous box. H.G., my husband, asked Tom if he could place a small plaque on one of the course's benches in recognition of my efforts. Tom said he would do better than that by providing a new custom bench.
H.G. was frequently asked to be the fill-in fourth in the ladies' Tuesday group, and on the first occasion for us to play off the new tee, he was in the foursome. We hurriedly went to the new tee, eager to try it. He had to plead with us to inspect this new bench. There it was, with a beautiful brass plaque dedicated to me. One of the ladies blurted out, "Heavens, this is better than jewelry." This was all over tears of joy.
Fast forward to 2017. We heard City Park Golf Course was to be demolished due to reconstruction of a major highway nearby. The course was within a 100-year floodplain that impacted the reconstruction. The good news was a new course was to be built when reconstruction was completed.
The city contacted H.G. and advised him they would store the bench and replace it later, somewhere on the new course. By this time, we had moved to SaddleBrooke Ranch. In September 2020, H.G. received notice with good and bad news. They had the bench, but it had deteriorated in storage beyond use. The big question became, does H. G. authorize the building of a new one or let it go? He decided that since we no longer lived in Denver, he asked that the plaque be sent to him.
Now what to do with the plaque? Frame it? Ok, but where to display it? He called our neighbor, Vern Nulk, SaddleBrooke Ranch resident and artist extraordinaire. If Vern could build a small version of the bench, with space to display the plaque, that might solve the problem. The result was beyond his expectations, in that an exact replica of the bench now resides in SaddleBrooke Ranch. He surprised me on my birthday with a miniature version, complete with faux grass. I was surprised and thrilled to know that my bench continues to live on. I must mention that golf has been a huge part of my husband's life, and he is a member of the Colorado Golf Hall of Fame. Thank you, dear husband, for such a happy birthday surprise!