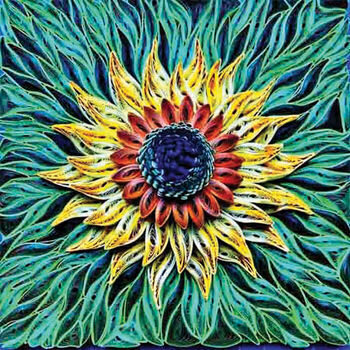 Linda Shannon-Hills
Some artists begin their artwork when they are young, while others discover their talents after they have retired from their career. Erin Newman discovered her love of paper quilling after retirement in 2013 from the U.S. Forest Service. Before paper quilling, she started beading and sequinning ornaments, which many other people were doing at the time. Since she and her husband wanted to travel more, she wanted a craft that could be more mobile, as well as a unique craft, and she discovered paper quilling.
Erin was born in Warrensburg, Mo. Her father's career started in the Air Force but when he left the service, he went to work for the United States Forest Service. A career in the Forest Service led the family to move around a lot. Her mother was an oil painter, and her siblings were all artists in high school. Erin had no real interest in art in high school as she was very active in various sports, so had no time for art.
Erin joined the U.S. Forest Service, which developed into a career. During her time with the Forest Service, she met Corbin Newman and they became good friends. Corbin was transferred from their office, but they stayed connected, leading to their marriage in 1998. One year later, they were transferred to Washington, D.C., for eight years. Corbin was offered a position as a Regional Forester in Albuquerque, N.M., in 2007. They both decided to retire in 2013 with an eye on traveling in their RV.
Now retired, Erin had time to develop her craft from small designs to more complex images. She is self-taught but has developed friendships and virtual mentors with other quillers on social media. If you were to ask Erin to describe paper quilling, she says "It's hand-rolled paper, meticulously placed, one piece at a time."
Corbin and Erin were drawn to SaddleBrooke Ranch and moved into their new home in June 2019. She joined the Fine Arts Club and Paper Crafters, offering instruction on paper quilling.
Erin's designs are one-of-a-kind and are difficult to re-create. Quilling is very time-consuming, taking many hours. For example, something measuring 8 inches by 10 inches can take from 30 to 40 hours. She is inspired by the colors of the southwest, working on more abstract images, never sketching her designs before she starts. Each design develops as she goes. These 3D images turn into such wonderful designs, and people are inspired to say, "Wow." Working with paper has led Erin to making paper crafted cards with many beautiful designs.
At a recent art show at La Encantada, a judge stated, "Erin's paper quilling art is unique in that it combines the color and contrasts of paintings with the texture and dimensions of sculpture. It is these combinations that makes her art uniquely eye appealing while drawing the viewer in for a closer look."
Paper quilling art has existed since the invention of paper, but has had a resurgence in popularity recently and raised to an art form today.
Contact Erin at [email protected] for more information.