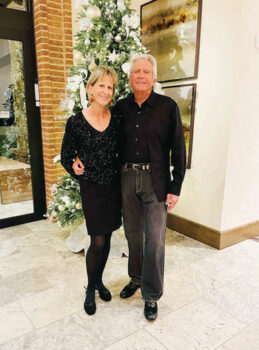 Carol Osgood
SaddleBrooke Ranch Social Ballroom Dance Club (SBRSBDC) celebrated the first full year of a very successful group of dancers of all levels, dancing once a month to great music in the Sol Ballroom. Music for these dances is provided by professional DJs Gus and Gina, who have been putting great dance venues together for decades. They have fantastic playlists, including every genre and an incredibly broad spectrum of artists. They also make it fun throughout the evening by having name the song and artist contests with prizes. The dance club is very fortunate to have these amazing musicians to make our dances incredibly fun and professional.
Ballroom dances are for everyone! Your ability is never a concern and lots of other dancers are there to help you navigate. It's just a great mix of beginners to advanced dancers, all just having a great time enjoying the music and socializing with fellow dancers.
Plan to join this group once a month in the Sol Ballroom. Consult the website, sbrsbdc.club, for a full calendar of dates for these dances as well as all classes taught each month.
Happy New Year! Let's enjoy another successful year in 2022—come join the SBRSBDC today and join the fun!