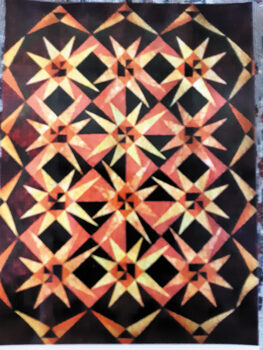 Cathy Schaber
Mark those brand-new 2020 calendars for the SaddleBrooke Friday Quilters 2020 Quilt Show to be held on Sunday, March 1, from 10 a.m. until 3 p.m. Admission is free for this fabulous show at the MountainView Ballroom, located on 38759 S. MountainView Blvd. The room will be filled with more than 100 quilts and quilted items, including creations from some of our international award-winning members. As always, there will be a boutique featuring hundreds of hand-made items by the club members for sale. All proceeds benefit local charities.
Also available before and during the show are tickets for a lovely raffle quilt. It is a paper-pieced throw or wall hanging measuring 81 by 66 inches in southwestern colors.
Ticket prices are $1 each or six for $5, 15 for $10, or 35 for $20 and are available from any SaddleBrooke Friday Quilters club member. The winning ticket will be drawn at the end of the show, and you do not need to be present to win. In addition to the show, boutique, and quilt raffle, there will be on-going demonstrations of techniques, booths from the Quilt for a Cause and Quilts of Valor organizations, as well as silent auction items.
We hope you all will be able to attend this highly anticipated one-day event and see how creative these members have been over the past two years.