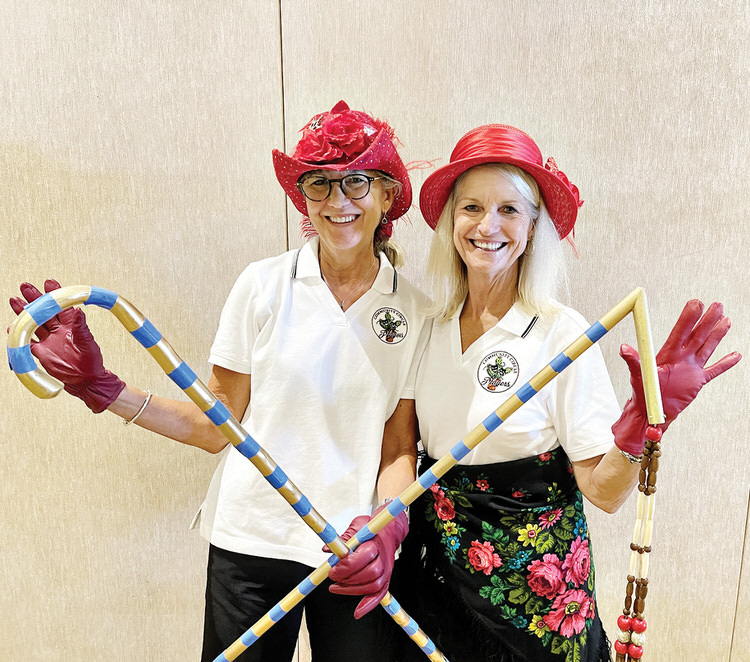 Andrea Molberg
Thanks to the help of Costume Coordinator Susan Schweitzer and Props Coordinator Mary Riemersma, Community Circle Players (CCP), our live dinner theatre troupe, will delight its audiences once again. CCP is producing An Evening of One Acts—a charming dinner theatre production in a new format. The show's producer Shawne Cryderman is grateful for Susan and Mary's resourcefulness and hard work on the production team.
Soon after moving to SaddleBrooke three years ago, Susan Schweitzer and her CCP actor husband Jay joined the Community Circle Players family. Susan is thrilled to have worked behind the scenes as costume coordinator for the last three CCP productions (Don't Drink the Water, Cooking with Gus, The Outsider). Susan enjoys using her creative skills—combing through thrift stores, raiding actors' closets, sewing, and altering—to help make the actors look their best on stage! When not helping CCP, you'll frequently find her on the pickleball court.
Mary Riemersma is new to CCP, coming on this year to coordinate props. She has been a resident of SaddleBrooke for more than four years and enjoys participating in a number of activities including, but not limited to, golf, hiking, pickleball, line dancing, and country western dancing. She and husband, Ken, have been married 51 years and enjoy traveling, time in the mountains, and kayaking. She also serves on the Scholarship Committee for SaddleBrooke Community Outreach. She and Ken have one son, three grown grandchildren, and one great-grandson. She is excited as she learns her responsibilities in her new CCP role.
CCP official photographer Steve Weiss makes our actors look great. He and his wife originally lived in the northern suburbs of Chicago where the winters seemed to be getting angrier each year, so in March 2013, they moved to SBR. In high school, when his sports career was over, he appeared on stage in the cast of the musical Bye Bye Birdie. Steve spent 34 years helping people protect their inventions and trademarks as an intellectual property attorney. He had many opportunities to photograph performing arts for a company in the Chicago area and enjoyed not only taking the pictures but the presentations and the music. He has volunteered his time and talent for every CCP production.
Check out their great work behind the stage for this year's unique production.