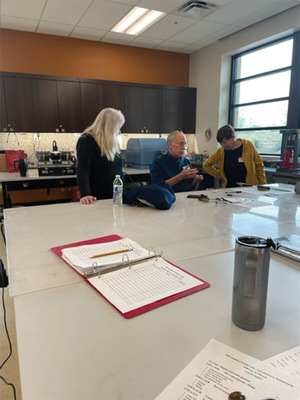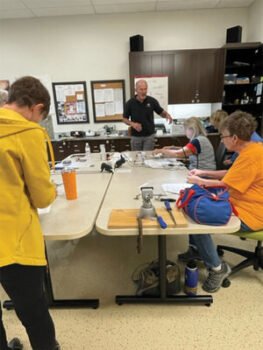 Ellyn Biggs
John Backes arrived at SaddleBrooke Ranch in hopes of furthering his hobby of making jewelry. He was told there were facilities for making jewelry in the Arts and Crafts Building. Upon arrival, he found that a jewelry and lapidary club had not been formed and the studio had not been opened.
John then volunteered to act as president and facilitate the formation of a club and the opening of the studio. Thanks to his efforts, today the Jewelry and Lapidary Club has grown to more than 70 members. The club mission is to provide SBR residents with the opportunity to experience the joy and satisfaction of creative expression in the art of lapidary and metalsmithing.
The following classes are taught:
* Orientation and Safety
* Introduction to Lapidary
* Wire Wrapping
* Viking Knit Process
* Metal Folding and Embossing
* Making a Silver Ring with a Stone
* Metal Forging
* Introduction to Metalsmithing
* Introduction to Enameling
From the very first class, you will make a beautiful and unique piece of your own design.
Drop by the Jewelry and Lapidary Room at the Arts and Crafts Center and check us out. We are open Monday through Friday from 9 a.m. to 4 p.m. There will be a monitor available to answer your questions. At that time, you may sign up for our Orientation and Safety class with no obligation. If you like what you see, you can join for $36 per year after taking the class.