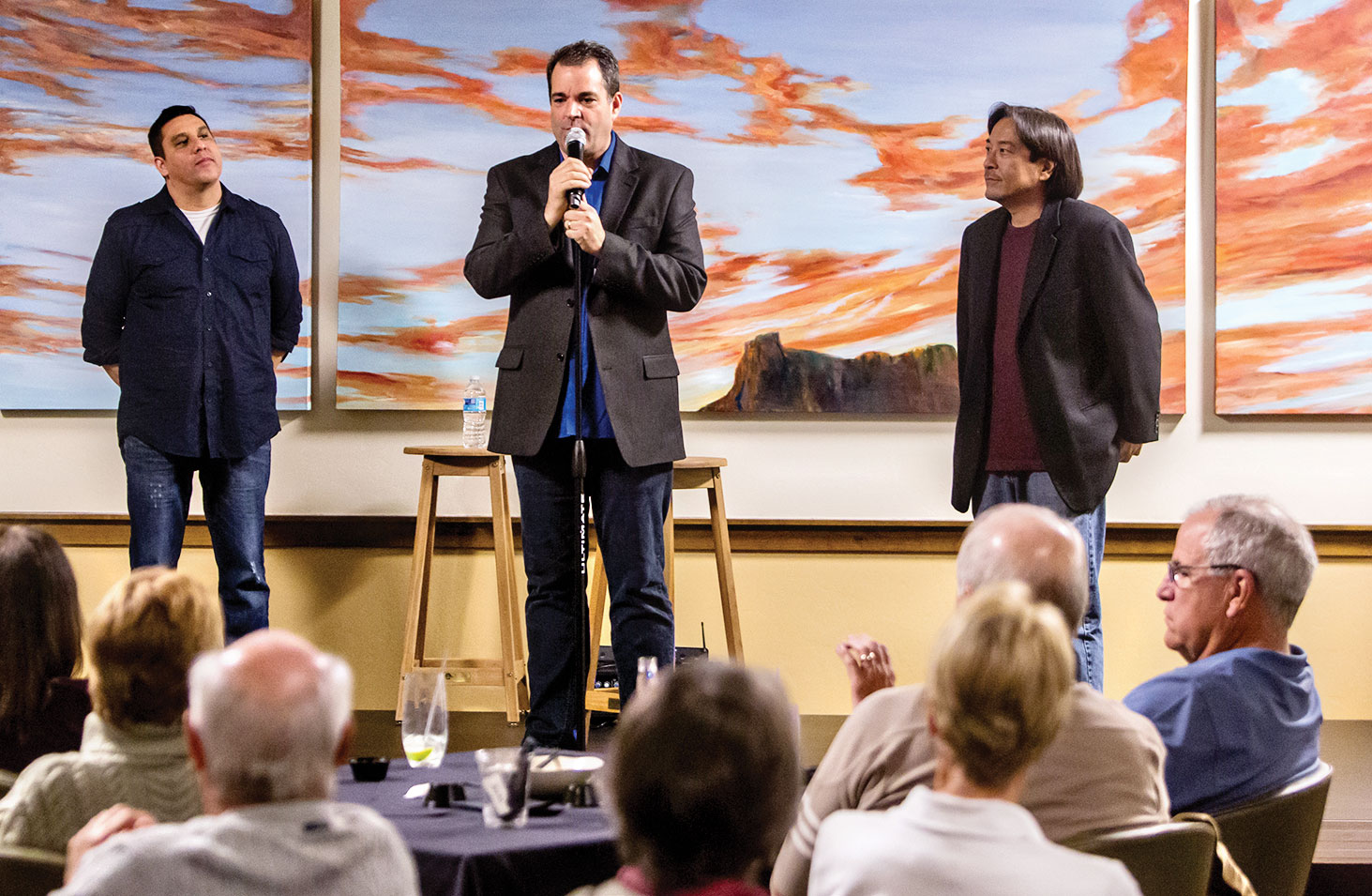 Steve Weiss
On Friday, January 30, one of the rainiest January days in the history of the Tucson area, a greatly needed comedy night was presented at La Hacienda Club of SaddleBrooke Ranch. Three very entertaining comedians made the night very enjoyable for those who trudged through the rain. The opening act was Gene Moore, who claims to be of Mexican and English descent. He showed us how a Mexican Englishman grew up in the United States. Bob Kubota was the second performer who talked not only about his Japanese American heritage but also pointed out certain idiosyncrasies in the English language.
But the comedian who brought the audience literally to tears of laughter was Mike James. Mike has appeared on Comedy Central, The Daily Show with Jon Stewart and the Tonight Show with Jay Leno. But a comedian is only as funny as his last "gig," and the SaddleBrooke gig was particularly funny. His humor took the audience to a subject very near and dear to them all. That was marriage. Without going through his entire performance, most of what he said could be summarized in the following statement. Husbands find themselves trying to build up positive points with their wife. However, if the points are not redeemed at the end of the day those points are lost forever. On the other hand if a husband were to do something wrong, the resulting negative points will last forever until they are overcome by positive points, and those negative points are subject to the charge of compounding interest. Mike also brought up the subject of how his relationship with his wife has changed due to his getting "older" at 50. There was a small revolt since the audience, being somewhat mature in nature, thought a person at the age of 50 is actually very young.
Mike and his colleagues are all from the Phoenix area. Gene Moore and Bob Kubota can be seen at various comedy clubs in Phoenix. When Mike is not performing at corporate events and casinos all around the country, he occasionally writes for Comedy Central, The Daily Show and other comedians.