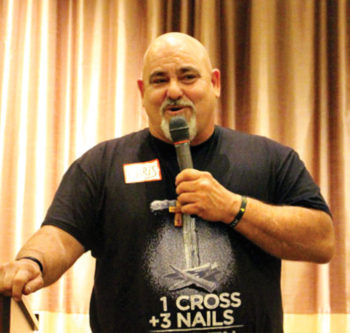 Dick Kroese
Chris Terzan talked to the men of Community Church at SaddleBrooke (CCSB) about his life on drugs, running with the worst of the drug lords and ending up in prison at the lowest point in his life. While in prison, he was handed a Bible and from there, his life changed and he changed. Today, Chris is working with all ex-convicts, helping them find work and sustainable jobs by showing them the way to Christ.
What a remarkable story Chris had to say to all of us. We all were blown away by how God came into his life and changed him forever. Now all Chris wants is to give back to those ex-convicts who literally have nothing and nowhere to turn.
CCSB is a Christ-centered Church with the mission to glorify God by becoming a community of grace where people will receive, live and share the love of Jesus Christ. Join us at the DesertView Performing Arts Center in SaddleBrooke each Sunday at 8:30 a.m. All are welcome.