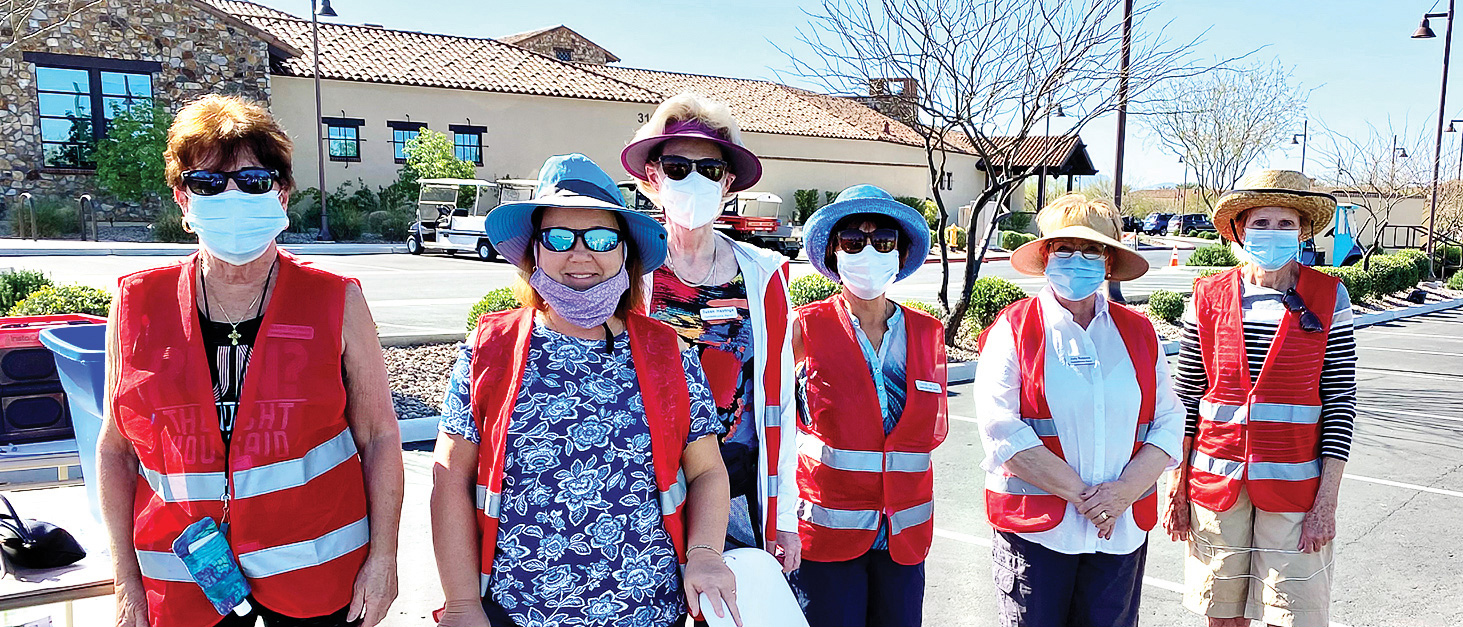 Linda Shannon-Hills
Through rain, snow, wind, sunshine, and hot temperatures, the SaddleBrooke Ranch COVID-19 vaccination drives went on without delay (except one day we started earlier). Although weather was not our toughest challenge, it did have an effect on how the drives were operated.
First challenge: Vaccine vulnerability was a concern. Moderna vaccines are stored frozen between -13 degrees to 5 degrees Fahrenheit and need to be protected from light, plus they cannot be stored on dry ice. Once the vaccine is moved to refrigeration, it can be at 36 degrees to 46 degrees Fahrenheit for up to 30 days prior to first use but not refrozen. After the first dose has been withdrawn into syringes, it must be discarded after six hours if not used. On the 80-degree days, the pre-draw nurses were limited on the number of syringes to bring outside for vaccinations, which required a balancing act. Also, the syringes needed to be kept covered from the sun until they were administered. With careful planning, the volunteers found the right balance of when to bring out syringes and were able to maintain the traffic flow of vehicles and golf carts.
Second challenge: Many of the volunteers were standing for several hours during the drives. Wind and cold required more layers, which challenged movement. Hot weather increased water intake, which required more bio-breaks. Fortunately, we did not experience anyone with heat stroke during the drives.
Third challenge: To help protect the volunteers in a couple of the areas, we put up tents. As we all know living at the Ranch, once the wind came up, the tents would take to the air, which led to scrambling to hold on to the weighted poles and even quick action take down. Paperwork also took flight, so clipboards, rocks, and tape were used to hold on to consent forms, labels, and record cards.
Everyone who signed up for vaccinations were exceptionally good-natured and so appreciative to be able to get the vaccine in our community. We had some funny stories shared by volunteers. There were a few tales of residents losing their white vaccination record cards. Stories of lost cards included a woman's dog snatching her card and hiding it under his bed and frantic searching by another resident who finally discovered the card in the top drawer of the desk they use every day. There were also some unusual special requests that we could not grant. A couple people asked to have a special appointment, later in the afternoon, to receive the vaccination so they could play a round of golf or pickleball before getting their vaccination. Another resident asked to go to the front of the line because he had ribs cooking on the barbeque. It was amazing to hear so many people state they were thankful to be older (some even telling us they were older than they actually were) so they could get the vaccine sooner. One man said his underlying medical condition was that he snored, so he thought he should be able to get the vaccine sooner than others; another special request not granted.
Support from Brianne Spaeth from Desert Life Pharmacy was exceptional. She was always working to get more vaccines for SaddleBrooke Ranch and also SaddleBrooke communities. Her pharmacy had been open less than a year when we started the drives, and she has proven her business is more than up to the challenge. For our gratitude, we presented Brianne Spaeth with a wooden plaque made by the SaddleBrooke Ranch Woodworking Club. She also received a beautiful cactus design quilt made by the SaddleBrooke Ranch Piecemakers Quilting Club. Her husband was immediately tasked with hanging both gifts in her pharmacy.
During our drives, over 3,300 vaccinations were administered. A huge success! It has been a challenging pandemic year, but getting the vaccination helped alleviate some of the concern and offered hope that we can return to a somewhat normal life again, whatever our new normal might be.