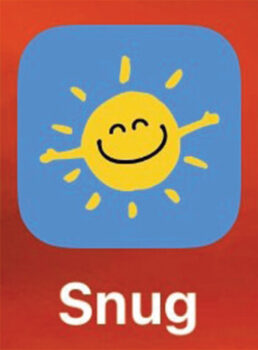 Linda Shannon-Hills
No one should not be found immediately if in medical distress. I have discussed this issue of living alone with several of our residents and one option has surfaced that could provide help for our single residents living alone or older couples wanting help when needed.
We all want independent living and want to be safe. You may feel uncomfortable having someone check on you daily. People are busy and may forget to check on you or it becomes an inconvenience for them. One resident told me about an app she and several friends use on their cell phone called Snug Safety. You can download the app to your phone. Go to the app store you can access from your phone. Look for the Snug Safety app, a bright blue box with a yellow sun.
It is easy to set up and is free for the basic service. You register your name, email, and cell phone number. Determine the time you want them to text for a check in. Decide who would be your emergency contacts if something happens. Make sure they live close enough to you so they can quickly come to your home to check you are alright.
Comments from SBR residents using this app:
"Snug truly has been an answer to my prayers. With Snug, they remind you if you're getting close to your check-in time and if they haven't heard from you. I forgot once and my contacts were sent an emergency text. I was surprised to find them in my house asking if I was ok. As far as the contacts being inconvenienced, they aren't at all. Snug notifies them, and your contact notifies your local authorities."
"There is an upgraded service, called Snug Dispatch Plan as well. The cost is $9.99 a month or $99.99 per year. If you are on the Snug Dispatch Plan, a Snug dispatcher will call your cell phone and ask if you are alright. If you do not pick up, they will leave a voicemail with a callback number. If you don't call back in the specified check-in time, they will then proceed to call every one of your contacts, in order. If the dispatcher does not receive a confirmation that you are alright, or that one of your emergency contacts has checked on you to confirm you are alright, they will dispatch a wellness check to your last known location by emergency authorities in your area."
If you don't feel comfortable downloading this app to your phone, but want to be checked on, contact Linda Shannon-Hills at 970-389-5131, and we will find an SBR person to come to your home to help you or meet you at an SBR location.