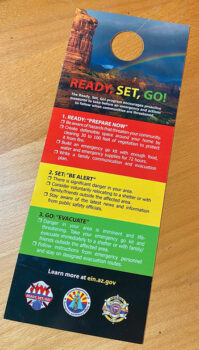 Ed Ehrman and Linda Shannon-Hills
Since May, a grassroots group has assembled a task force of Ranch residents to provide input and leadership in developing an SBR Community Emergency Plan. This is a grassroots effort, not started by the HOA, but they are committed to assist where they can. The team has also been working with leaders from the Pinal County Office of Emergency Management, Pinal County Sheriff's Office, Golder Ranch Fire District, and our representative of the Pinal County Board of Supervisors along with SBR HOA General Manager Andrea Marcus and Assistant Manager Danielle Herbert.
Pinal County has developed a county emergency response plan, so our task force has used this as a guideline for the plan for SaddleBrooke Ranch. A draft version of the SBR plan has been completed for review with our outside partners before we publish the plan to the residents of SaddleBrooke Ranch before the end of the year.
The plan includes identifying potential emergencies that could impact the Ranch and our residents, evacuation planning if our entire community would need to leave the property, or what to do in a shelter-in-place situation. As we stated earlier, the task force is developing preparation suggestions for our residents based on federal, state, and county agencies and the best way to communicate the plan to the residents on an ongoing basis. Also in development are what operations are needed by resident volunteers to work in tandem with our support agencies during an emergency impacting the entire community.
In October, you would have received the most current version of the Source Book for SaddleBrooke Ranch along with a community map. Also included is a door-hanger flyer "READY, SET, GO!" provided by the Arizona Department of Emergency and Military Affairs and the Arizona Sheriff's Association. We urge you to keep this flyer handy, on your home bulletin board or another easy access location. Refer to the flyer and start planning your "go kit."
Learn more at ein.az.gov. You can email questions or comments to the SBR Community Emergency Task Force at [email protected]