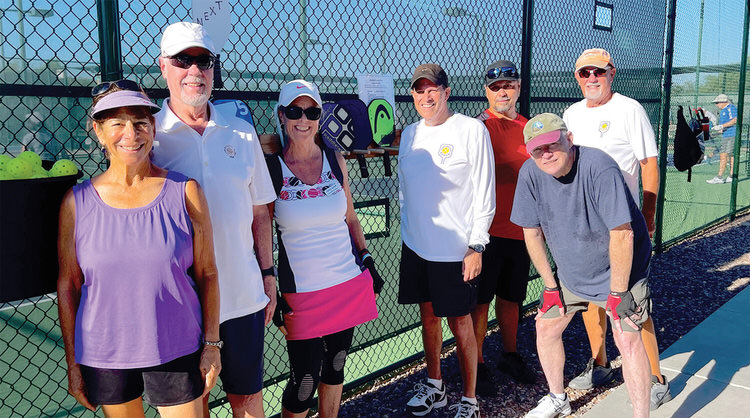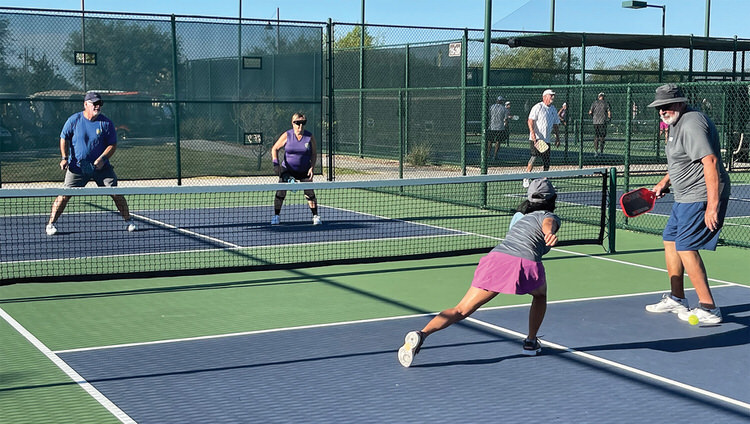 Jeff Smith
"Drop-in play" is the buzz term around the club's pickleball courts this fall. What began as an experiment on July 5 is now being expanded due to its early popularity.
Besides the social aspects of pickleball, the success of the sport can be attributed to its welcoming nature in an informal setting. Regardless of your age, physical abilities, gender, or level of interest, pickleball can be fun for you—made even more so with the addition of "Drop-in play" at the SaddleBrooke Ranch Pickleball Club courts.
Here's how it works: Players simply show up ready to play and place their paddles in the rack at Court 8 along with other waiting players. When a game concludes on one of the three drop-in courts (7-8-9), the players with the next four paddles in the rack claim that court. You don't need to register on the club website. You don't even need to be a club member as drop-in play is open to all Ranch residents, renters, and registered guests. This provides players with another option for playing club members with various skill levels. It also offers the opportunity for players to play less or more than the standard two-hour session—an important consideration during the hot summer days.
As Board Treasurer Milan Steube says, "In drop-in play, ratings don't matter—anybody can play anybody else." He has observed a very good mix of skill levels. Milan helped grow the new program here at the Ranch, along with an ad-hoc committee consisting of Ed Gitelson, Margaret Rogers, Bill Wells, Barry Feinberg, Robin Muck, Priscilla Wolf, Toni McDole, and Pam Steube. Milan made special mention of Anna Ung: "Your regular participation in drop-in play has proven to be especially beneficial for players of all skill levels who benefit from playing with you and learning from you."
With the program's growing popularity, the club plans to tweak and add to the current court schedule to accommodate those who prefer drop-in play.