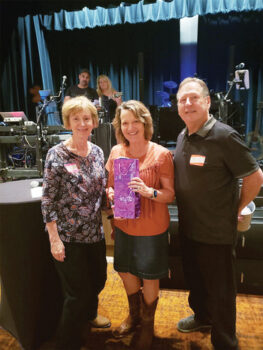 Janelle Authur
Ranch Western dancers rocked the Sol Ballroom to the rafters with boot stomping and scootin' to the music of Wild Ride Band on Sept 9.
Sixty-plus Ranch Western dancers and guests welcomed the fall season at the SBR Social Dance Club's monthly Western dance. Not only did dancers enjoy an expanded dance floor, they were also treated to an expanded, five-piece, Wild Ride band featuring band members on three guitars, an electronic keyboard, and drums.
Making their fifth appearance on the Ranch stage, Wild Ride entertained with a variety of the group's favorite Western songs. Dancers took to the dance floor for the two-step, swing, cha cha, waltz, Western partner pattern, and few of the most familiar Western line dances, led by Jerry and Kathy Meyer and Rocky and Karen Hart. Dancers topped off the evening with the Western dances' traditional end-of-evening waltz partner pattern dance, "I Love You Arizona."
The club sponsors Western dances with live bands monthly. Up next is the Mamma Coal Band on Friday, Oct. 7. Mamma Coal is fairly new to the Tucson music community, but has already established herself as a well-respected performer and songwriter. She performs regularly at Tucson Country music nightclubs, including The Maverick and Whiskey Roads, as well as a variety of other local venues.
Popular Tucson-area band Patrick Rayl and the .357 Band will return on Friday, Nov. 4, and Wild Ride will close out the year on Wednesday, Dec. 7.
All the Western dances also feature a raffle, with entry requirements that change each month—such as cowboy boots or hats, wearing a specific color, or, for the September dance, jeans. The September winner, Karen Hart, won a bottle of wine.
All levels of dancers are welcome at the monthly dances and newer dancers are encouraged to "come on down" and practice their newly acquired skills. Given the popularity of the Western dances and size of the dance floor, past registration has been limited to 70 dancers. With the addition of a temporary dance floor, the limit will be increased to 80 dancers in October as a trial.
The club also sponsors monthly rock and roll and social dances, featuring a DJ, as well as a variety of dance lessons. Country-Western lessons scheduled for fall 2022 include Beginning and Intermediate Arizona Two-Step, Partner Pattern, and the Western Waltz. For details and to register for the dances and lessons, go to the club's website at www.sbrsbdc.club.
Information on the dances and lessons is emailed directly to club members and those on the club's mailing list approximately four weeks before the dance and/or lessons start date. Details are also included through a link in the weekly Ranch Reminder. Registration opens four weeks before the event.