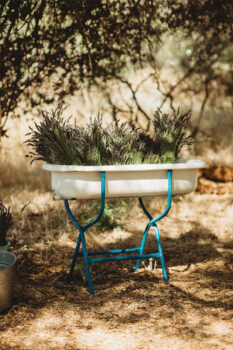 Carolyn Blair
Life Under the Oaks Lavender Farm is located in the quaint community of Oracle. The lavender farm has 3,000 plants, along with plenty of seating to enjoy nature as you enjoy lunch. There are also sculptures, artwork, farm animals, and the Pop-up Lavender Shop. Purchase lavender bundles that were just harvested this past season along with oils, lotions, sachets, lavender wands, and many other items. The farm is a small family-owned business.
After a busy bloom season, Life Under the Oaks Lavender Farm is preparing for several fun activities as the weather begins to cool. With all the rain Oracle has received, the farm is quite beautiful with all the greenery, wildflowers, and pumpkin vines growing! The season will begin with Open Farm on Sept. 4 and 5 from 8 a.m. to noon. Order a food basket (prepared by the Oracle Patio Cafe) to enjoy next to the lavender field. Pick up some lavender bundles and products at the Pop-up Lavender Shop. Sign-up for the Fairyland Diorama on Saturday. Farm entrance fee is included if you sign up for a workshop or breakfast. Enjoy a wholesome breakfast at the lavender farm on Sunday, Sept. 5, at 9 a.m. Indulge in a lavender mimosa as you walk in the lavender field and see all the artwork and quaint creations!
The Lavender Farm will be hosting breakfasts, farm-to-table lavender dinners, teas, yoga, workshops, and seasonal events throughout the rest of the year. Visit the website www.lifeundertheoakslavenderfarm.com to find out more and sign up for any of these events. Open Farm will take place the first Saturday and Sunday of every month. The Farm is also available for private lunches, teas, dinners, birthday parties, book clubs, garden clubs, etc.
Contact the Lavender Farm at [email protected] or call 520-820-3454.