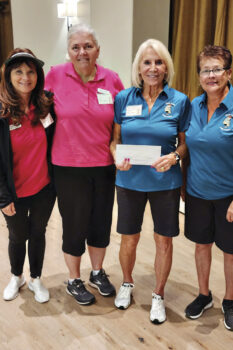 Camille Esterman
Carpools of Ranchette Putters (RP) traveled to Green Valley to play in an invitational tournament sponsored by the Quail Creek (QC) Lady Putters. After registration, our club had to pass under a row of raised golf clubs held up by our hostesses to reach the QC green. What a fun way to welcome us to this event.
Mixed teams with putters from both clubs were assigned starting holes. At first glance, the QC putting green appeared relatively level, but this was an optical illusion. Slight changes in pitch and a constant strong wind kept golf balls sailing passed the intended holes. Two holes even required putting from the rough, while one hole required the use of a croquet mallet instead of a gold club.
In spite of these challenges, awards were earned by individuals from each club who had the best score and most holes-in-one. Other prizes were given out to the team with the lowest average.
The Ranchette Putters congratulates the winners from our club: Doris Carlin, who had the lowest score (36); Doris Carlin and Judi Townsend who had the most holes-in-one (3 each); and members of the winning team—Jodi Walker-Lowe (RP), Doris Carlin (RP), Shari Cerrone (QC), and Randi Kauppe (QC).
Tables in the ballroom were decorated with fall leaves and hand-made beaded bracelets—a table gift for every putter. Delicious salads with pecan-crusted chicken breasts, mandarin oranges, chopped pecans, and avocado slices atop field greens were served—reminding us all of pecan orchards we passed along the road. Baskets of rolls were also circulated, while scoops of vanilla ice cream with strawberries and whipped cream completed the luncheon.
And at registration, each putter received a ticket for a random drawing of more than 20 wrapped gifts. Lovely journals, baskets of seasonal goodies, and bottles of local wine were some of the giveaways presented during lunch.
Finally, as our club was ready to leave Quail Creek, we each received a goodie bag for the road: a bottle of water, a bag of snacks, a tube of lip balm, and a golf ball inscribed with the QCGC logo.
The Ranchette Putters thank Janet Wegner, president of the Quail Creek Lady Putters, and her entire club for their hospitality and generosity. We look forward to hosting these fun ladies in 2023.