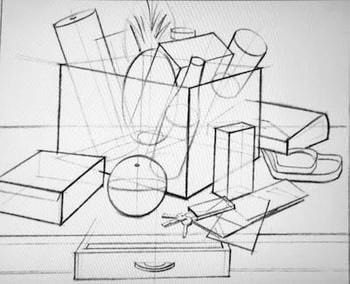 Dale Farland
The new year is around the corner and this can be the start of learning something new and fun! This January, there will be an opportunity to take the Drawing Shapes & Forms Class (formerly known as Beginner Drawing Class I). Many SaddleBrooke Ranch residents missed taking this class in the summer. So, we are pleased to announce that SBR resident and artist Lisa Friedman has agreed to teach this well-received class again on three consecutive Wednesday afternoons starting Jan. 4.
Lisa has been teaching various drawing classes over these past months. Students have thoroughly enjoyed taking these classes, as will you. Now is the time to start checking off items on your bucket list in the way of exploring your inner artist.
Class description: The Drawing Shapes & Forms Class is a six-hour course, divided over three days. Lisa will introduce participants to drawing. Starting at the very beginning with what is drawing, you will become familiar with your graphite pencils. Then you will apply basic concepts such as proportion and size to paper with fun exercises, where you will use lines, shapes, and forms as your building blocks. All materials will be provided, so all you need to bring is yourself!
Dates for the Wednesday classes: Jan. 4, Jan. 11, and Jan. 18
Time: 3 to 5 p.m. in the SBR Art Room
Class fee: $80; class fee includes instruction and materials
Class size limit: Minimum: 5. Maximum: 12.
Payment deadline date: Wednesday, Dec. 28
Registration: Please deposit your check made out to SBR Art Club in the amount of $80 in the lock box located directly outside of the Art Room, located within the SBR Creative Arts and Tech Center. Also, please mark on the memo line that your check is for the Drawing Shapes & Forms class. If you have any questions, please contact Dale Farland, treasurer of the SBR Art Club, at [email protected].