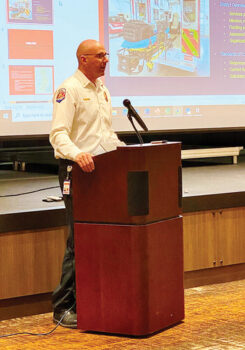 Linda Shannon-Hills
Due to the pandemic, it has been two years since Golder Ranch Fire District (GRFD) has given a talk at the Ranch, so it was a great pleasure to have Fred Pearce, chief of operations, and Anne-Marie Braswell, communications relations manager, from GRFD give us an update on April 12.
Anne-Marie talked about the various services Golder Ranch Fire District provides for residents in their district. The File of Life folder with magnet can be put on the side of your refrigerator or freezer. It holds a slot to keep a listing of all your medications for EMTs to review if they are called to your home for a medical emergency. Having this information is handy when you may not be able to communicate or forget to tell them when they are treating you. You can keep this information typed on your computer and print an update to include as needed.
The Residential Lock Box at your front door makes it faster for the EMTs to come into your home after an emergency call when you can't answer the door. This secure Lock Box can only be opened by on-duty fire personnel with a key, to access your key to your front door. If you have purchased a resale home that has a Lock Box, you can contact the GRFD to come to the house to check that the key is still correct. Lock Boxes can be ordered online through the Golder Ranch Fire District website for $71. Once delivered, you install and call Golder Ranch FD at 520-825-9001, ext. 2102 to have GRFD open it to install your front door key.
Emergency Medical Services is a subscription you can order, which covers the cost of ambulance transport to the hospital in case your insurance does not cover all or part of the cost. The one-way cost from SaddleBrooke Ranch to Oro Valley Hospital can be up to $1,800. The Arizona Department of Health Services determines what all ambulance services in the state must charge for transportation. Your insurance might say they cover ambulance transport, but it may not be for Golder Ranch ambulance, so contact GRFD to be sure you will be covered. The cost is $97.30 per year, per household. Learn more at grmhs.org.
Chief Pearce presented an update on activities with GRFD, costs for services, and response times. It was interesting to learn that 80% of their calls, for their entire district, are for emergency medical services. At SaddleBrooke Ranch in 2021, there were 858 incident calls. Fires are a small portion of their calls, but they do numerous calls to remove rattlesnakes from residents' yards and more.
Their primary funding comes from property taxes, which keeps the GRFD well-funded to cover the 35,000 calls a year they receive.
GRFD encourages all residents to sign up for PENS, Pinal County Emergency Notification System, for immediate notification of emergency events.
The SBR permanent fire station is still on track. It will be outside the Front Gate Entrance. There is no specific date at this time.
Our friends at Golder Ranch are a major part of the SaddleBrooke Ranch community. Stay informed with Golder Ranch FD at their website grfdaz.org.