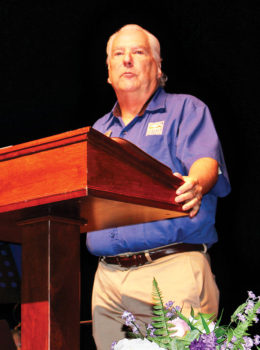 Dick Kroese
Community Church at SaddleBrooke (CCSB) once again welcomed guest speakers from the Gospel Rescue Mission (GRM) to the church service on August 26.
The GRM Women's Center Director, Kelly Upton, shared her appreciation for the generous $2,000 gift made by the CCSB Church at the beginning of this summer. The gift sponsored summer fun and educational activities for the children staying with their moms at the shelter. Children went to the Miniature Museum, Golf N' Stuff, the Children's Museum and several movies thanks to the kindness of our church members.
Kelly stated, "What an awesome heart CCSB has with all of the giving this church contributes to the community. You see a need and you meet it. Often times these children and their moms haven't had the opportunity to go and have fun like that and spend time as a family having fun. Thank you so much."
Pastor Roy Tullgren, Executive Director of Gospel Rescue Mission, also thanked CCSB for the significant financial contributions our church makes, as well as individual support from many members. In addition, he pointed out that church members also volunteer at the men and women's shelters with food service, mentoring and teaching. He invited more of our CCSB church members to volunteer and be a part of the ministry to the least, the last and the lost.
Roy then gave the morning message, challenging members to share their faith with those around them, including their neighbors in SaddleBrooke.
CCSB is a Christian-centered church with the mission to glorify God by becoming a community of grace where we receive, live and share the love of Jesus Christ. Join us every Sunday at 8:30 a.m. in the DesertView Performing Arts Center in SaddleBrooke and for our December 9 first time ever Christmas Cantata! All are welcome!