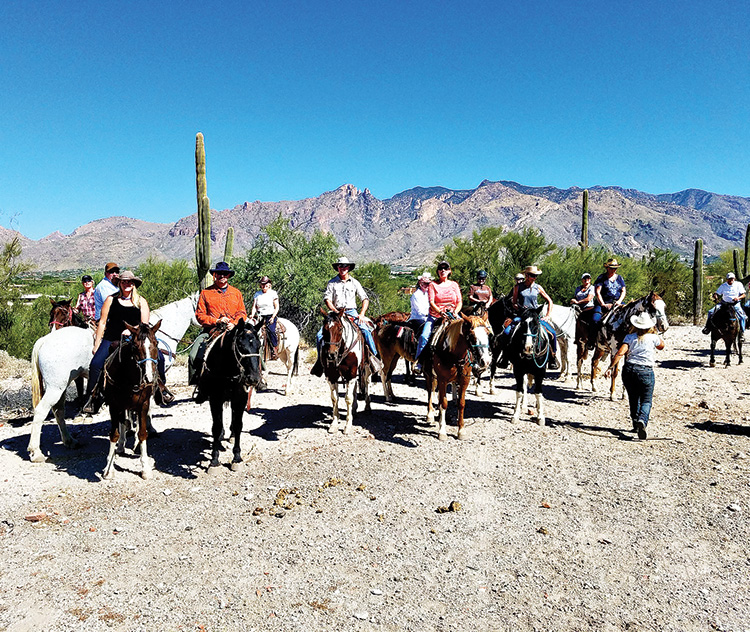 The SaddleBrooke Ranch Horseback Riding Group is getting ready to saddle up for the fall season. The first ride of the season will be on Saturday morning, September 21, at the Hacienda del Sol resort and stables. Despite being located in what would appear to be an urban setting, this trail drops down into a beautiful broad wash filled with shady trees and shrubs. The ride usually takes the group up to the top of an embankment for a wonderful view of the surrounding mountain ranges. The resort is also a great place to stop for lunch after the ride.
On Saturday morning, October 19, the group will head to Rocking K Ranch on the east side of Vail. While it takes a little longer to arrive at the stable, the group will enjoy wandering through a large pasture and up into the hills with some nice saguaros and some great views of the surrounding area.
On Saturday morning, November 16, the group will saddle up at the Old Tucson theme park. The trail includes riding through an Old West town, scene of such TV series as High Chapparal. The trail abuts the Saguaro National Forest with its wonderful saguaros as well as great views of the Tucson mountains. After the ride many take advantage of the opportunity to continue to enjoy the park at a discounted rate. There is a lot to see and do there, with commentary on real life in the Old West, stunt shows, dance hall girls, and more.
On Saturday, December 14, the group will be at Westward Look resort. This nearby setting offers a ride in the foothills of the Catalinas and some great views of Tucson. It is also conveniently located for a post-ride lunch or maybe some Christmas shopping.
The SaddleBrooke Ranch Riding Group is open to any SaddleBrooke Ranch resident. If there is room on a ride, residents may also invite guests. There is no need to attend all of the rides. Come to the rides that fit into your schedule. The group's secretary coordinates the reservations and helps with car pools. Prior experience is not required. Many have not been on a horse since their teenage years, if then. The rides are typically one hour to 90-minutes at a walk, just to enjoy the scenery.
So, mark your calendars for the upcoming rides! If you are interested in more information on the SaddleBrooke Ranch Riding Group, please look at the Horseback Riding website under "Clubs" on the SaddleBrooke Ranch HOA site. After clicking on the square tile, click the blue "Horseback Riding" link to be taken to the site. Sign up is easy; just click the "Contact Us" button, enter your name and either the name of the stable or the date of the ride, and click "Submit". The club secretary, Rebecca Williams, will confirm back your reservation by email.