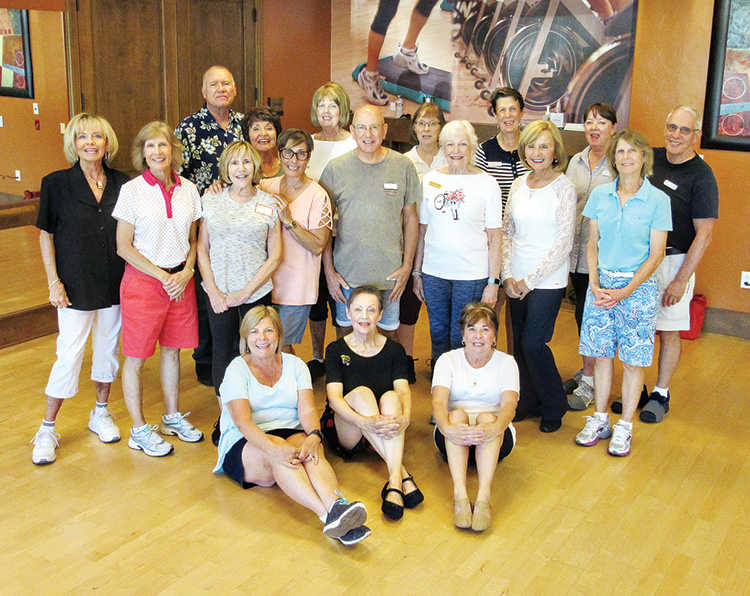 Dr Mark Magdanz
Classes are in full swing for the fall season. So, what's next? It's time to get signed up for the winter season. By January, the floor will most likely be full. Rebecca restricts class size so all students can have the best experience of fun and learning. So, we like to think like the three bears—not too big or small-just right for the fun, exercise, and friendship.
The AARP health news these last two issues has keyed on brain health and inflammation. So, I refer you to the October issue of the AARP Bulletin for brain health and the November issue on inflammation. Long story short—exercise is vital for both. Brain health is more specific: The Global Council on Brain Health (94 worldwide experts) article concludes with "What works best? If there was only one thing you chose to do, dance, it's fun, involves other people, it challenges you to learn patterns and movements. Go out and dance." As to inflammation, exercising is one major factor for reduction/control of this issue. The article points out (on page  18) two major roadblocks affecting seniors and concludes with the need to adjust your attitude toward exercise (do it) to control inflammation. Be sure to read this article, as it links most all of the brain and body chronic health problems in part to lack of exercise. These are the health issues that ultimately make life miserable. They shorten the length and pleasure of living.
Line dancing with Rebecca is really just about fun and exercise. Line dancing, as the number 3 most popular of senior exercise worldwide, has YouTube videos from every continent, even Antarctica. Why? Because it's fun and doesn't hurt! Learn how most movements in dance are already in your daily life—then just add music. Rebecca teaches the two skill levels of her classes with emphasis on humor and self-improvement without stress. You can progress through the levels at your own pace or stay at a favorite class level forever.
Finally, research that I've written about previously concludes that we just don't laugh enough. To combat stress, we ought to be seeking out more humor. Line dancing is a stress-relieving activity. The focus of the classes is just some great fun, exercise, redeveloping our ability to laugh at ourselves and with others. We improve our quality of life with hearty guffaws and enjoy success while dancing. We giggle when we get the dance right and also when a dance gets the best of us (temporarily). Come join for a good time, laughs, and some fun exercise.
"Dance with your heart and your feet will follow!"
To place your name on one of the reservation lists for the Winter Series in 2020, contact Rebecca Magdanz at [email protected] or 520-818-2656. She's a professional line dance instructor with more than 12 years of happy teaching and a 15-year resident of SaddleBrooke.