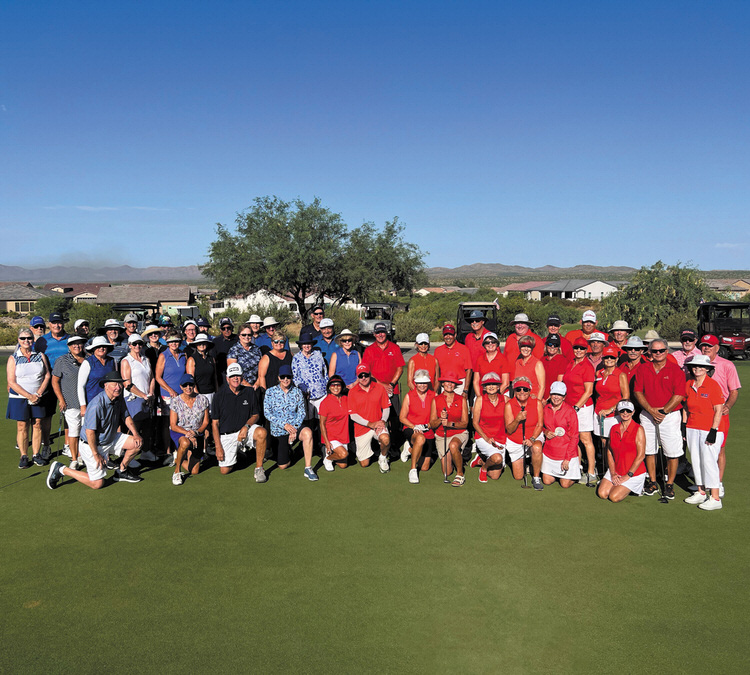 Debbie Ferguson
Hello, golf fans! The date was July 24, 2023. The SaddleBrooke Ranch Men's Golf Association (SBRMGA) and SaddleBrooke Ranch Women's Golf Association (SBRWGA) combined for this action-filled event. Men and women competing for, you guessed it, bragging rights. Tension was in the air early Monday morning. The questions on everyone's minds included, Would wives be speaking to husbands? Would the official, assistant pro Ken, wearing both red and blue, be open to bribes or would he remain impartial?
Teams had been previously determined by captains for the Blue Team, Brenda Armenia and Tom Merrick. The Red Team captains were Karen Jordan and Joe Valencious. Trash talk ensued, drinks were enjoyed, and strategies were prepared.
The 56 participants gathered to warm up on this day, which started at 82 degrees, while assessing the opposing team, evident by the colors being worn, red or blue. Fisticuffs were quickly thwarted by our official when Red Team Captain Joe V. had words with Blue Team member Troy Peterson. Clusters of team members were seen honing their putting skills, waiting for the call to their respective starting tees.
The competition was fierce as the temperature rose. Plum, Rust, and Pine drives were long, some wayward, as match play rules were used to the greatest advantage. Which team member would putt first to show the line, who in each match had strokes? Birdies, pars, bogeys and double bogeys were being carded across the course. Competition was fierce as most matches stayed within one hole, battling back and forth for supremacy.
As players returned to the event patio, scores were posted on the leaderboard. Players enjoyed drinks and lunch, waiting for the results. Attention was called as the results were finalized. Men's closest to the pin on hole number 5 was William Oprish. On hole number 12 this reporter witnessed the almost hole-in-one that ended inches from the cup by Paul Berry. Women's closest to the pin on hole number 2 was Brenda Armenia and on hole number 14, Melanie Timberlake. Applause and appreciation for the skill demonstrated by our closest-to-the-pin winners was enthusiastic.
As the emcee, SBRMGA's own Tom Graham stretched the anticipation for the overall winner, and the crowd grew anxious. The results were unexpected, even unprecedented. Golf fans, the Blue and Red Teams tied! The total was 14 points for each team. Bragging rights are on hold. Let the trash-talking begin for next year!
Special thanks to Dian Taylor, Brenda Armenia, Karen Taylor, Tom Merrick, Joe Valancius, Barb Simms, Paul Berry, Ken Steinke, and Mike Jahaske. Successful events happen because our members and others willingly step up to make them happen.