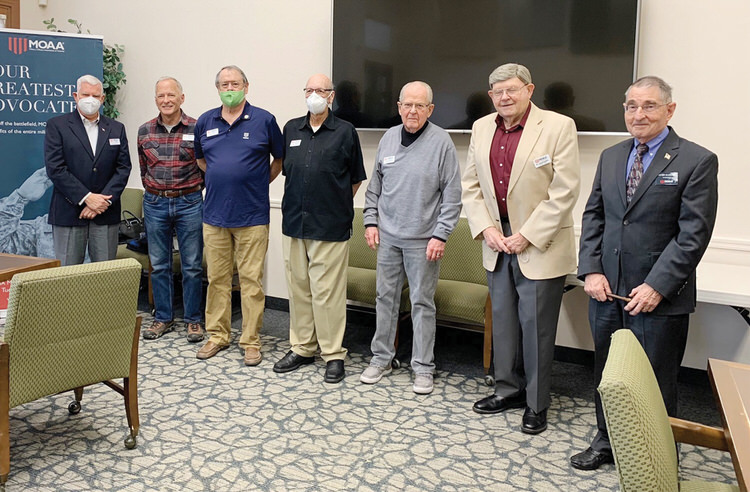 Lt. William Myers, USN Former
The Catalina Mountain Satellite Chapter (CMSC) of the Military Officers Association of America (MOAA) held its most recent meeting on Saturday, Jan. 15 at the Catalina Dining Room of the Mesquite Grill in SaddleBrooke.
Attending the meeting were two special guests: Col. William Wojciechowski, USAF retired, who is the president of the CMSC's parent chapter, the Tucson Chapter of MOAA, and Col. Peter Kloeber, USAF retired, who is the president of the Arizona Council of Chapters of MOAA and a member of the board of directors of MOAA National. The Arizona Council of Chapters comprises the nine Arizona chapters.
Col. Kloeber installed the recently elected officers, who will serve during 2022 and 2023. These officers are as follows: President Capt. Chuck Vaughan, USN retired; First Vice President Col. Kurt McMillen, USA retired; Second Vice President Lt.j.g. David Bull, USNR former; Secretary Lt. William Myers, USN former; and Treasurer George Bone, LTC USAR retired.
Following the installation of officers, Col. Kloeber discussed the goals and objectives of MOAA and how the Arizona Council of Chapters supports these undertakings. He emphasized the most important thing MOAA does is to advocate for improved benefits to active duty, former, and retired military men and women, as well as their families.
He also provided details on how CMSC could transition from being a satellite chapter to being a full chapter. Col. Kloeber thought that now is the time for the move.
MOAA is a nonprofit veterans association dedicated to maintaining a strong national defense and preserving the earned entitlements of members of the uniformed services, their families, and survivors.
The Catalina Mountains Satellite Chapter is part of the Tucson Chapter of MOAA, and encompasses Northwest Tucson, including Catalina, Oracle, parts of Oro Valley and Marana, SaddleBrooke, SaddleBrooke Ranch, and Sun City.
For additional MOAA information, contact Capt. Chuck Vaughan at [email protected] or visit our website at www.tucsonmoaa.com.