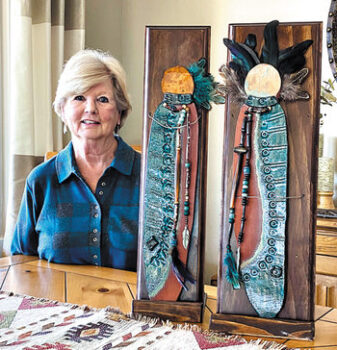 Patti Jo Lewis
Empty Bowls: Our potters have been working for months hand-building and glazing bowls in all shapes, sizes, and designs. All this is in support of the Empty Bowls event, with the goal of raising funds to help feed those struggling with hunger. The fundraiser is on March 4, 11 a.m. to 3 p.m. For tickets, directions, and additional information, visit www.icstucson.org/empty-bowls. An entrance ticket allows an attendee to select a beautiful handmade pottery bowl to sample signature soups, breads, and desserts donated by local restaurants and food partners. Also included is a silent auction and raffle.
SBR Club Expo: Stop by our table on March 2, from 1 to 3 p.m., in the Ranch House Sol Ballroom. Meet our potters, ask questions, and join in the fun.
Gift ideas: Looking for a gift for Valentine's Day? It's just around the corner on Feb. 14. Our display window is full of gift ideas.
Intro class: Our February class is already full, but there's still room available for either the March 9 or April 13 classes (class starts at noon). Come by the studio to sign up or leave your enrollment request in the drop box. The cost is $40. Approximately three to four weeks after attending your intro class, there is a session on glazing techniques, allowing you to put designer colors on your pottery piece.
Regular Studio Hours
Mondays and Wednesdays, 3 to 5 p.m.
Tuesday and Thursday, 9:30 a.m. to 3:30 p.m.
Fridays, 9:30 a.m. to noon
Please visit our club during studio hours to chat with our monitors, who can show you around the facility. Check out our website at www.sbr-mudslingers.club.