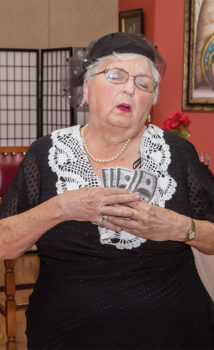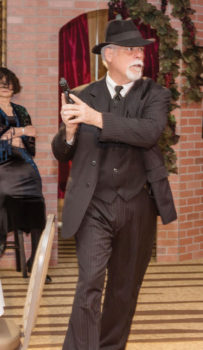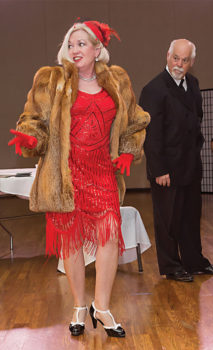 Andrea Molberg
Community Circle Players sold out all its shows of The Mafioso Murders held at SaddleBrooke One's Vistas and SaddleBrooke TWO's MV Ballroom in April. Some are already thinking about becoming a part of next year's production. SaddleBrooke's live theatre group boasts it has veteran and new performers alike. What was it like to join the troupe, where some have worked together for 10+ years?
Judi Rickner, who played the godfather's sister in CCP's recent production is enjoying her new nickname, Aunt Chovie. "What a great first experience and a fun adventure to be in my very first show. I learned so much and was so glad that everyone involved in every part of the production was so helpful and kind." She gives a special thanks to Sal Manella (Fred) for "catching her and sacrificing his toe in the process," when she was accidentally falling during a performance. She is extremely grateful that director Susan Sterling took a chance on letting a newbie be part of the show and thanks fellow cast members for their support.
JP Blount says, "Who knew that when I tried out for The Mafioso Murders that I'd be forever known by friends and strangers alike in SaddleBrooke as Mugsy! His last acting gig was Arsenic and Old Lace, way back in 1969, but he clearly loves the "roar of the grease paint and smell of the crowd!" The SB crowds and fellow cast members certainly enjoyed him playing a gangster and admitting he wasn't the sharpest candle in the tool shed. His wife Cindy joined in as part of the production's prop crew this year.
Monica Gustafson confesses that not knowing what to expect when she went to tryouts, she found auditioning for The Mafioso Murders with CCP a challenge at first. "What I experienced was a welcoming group and instant new friends who supported me in every way possible to bring Foxy Hydes to life. I loved my role and had fun bringing the character to the stage…I can't wait to see what next year brings!"