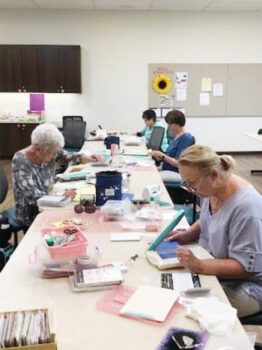 Do you enjoy projects that involve paper? Like to share ideas and need space to work? Come join us at Paper Crafters on Monday afternoons from 1 to 4 p.m. in the art room. The yearly dues are $20, and we have some supplies and tools available for your use.
On April 11, several of our members participated in an upcycle project for Mending Souls. We took old cards people have received, and refreshed them into new cards. It was a fun way to recycle and re-use for a great cause.
We have some talented members and are now selling beautiful cards that they have made for $4 each. Come on any Monday from 1 to 4 p.m. or Friday from 8:30 a.m. to 12:30 p.m.