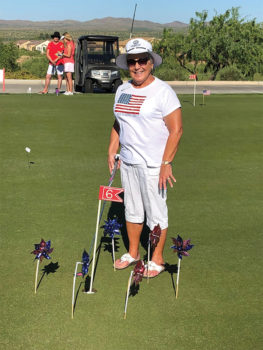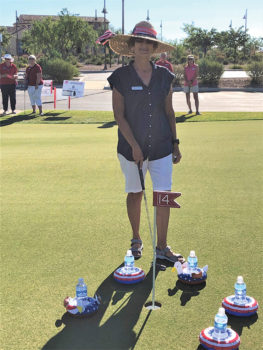 Camille Esterman
American flags, Uncle Sam hats, red, white and blue twirlers and bumpers were strategically placed around the putting green on Wednesday morning, July 3. Ranchette Putters arrived wearing patriotic outfits, visors and decorated hats, ready to test their skills on a fun obstacle course.
A holiday social followed the putting. Club members enjoyed sweet treats, and five lucky ladies won goody bags in a surprise raffle. Everyone enjoyed seeing Marti Kuhr, Pam Engelhart, Vicki Warning, Audrey Gelb and Mary Schlacter reveal the assorted gifts inside their bags.
Award winners for the month of June also were announced. The Ranchette Putters are proud to recognize this month's winners for the most holes-in-one (six or more) and the first, second and third lowest gross average scores.
June was a very warm month for putting, but these ladies conquered the heat and recorded great scores. The third lowest gross average was turned in by Evie Thomson with 36.333. Sue Marx came in second with 36.250. An outstanding putting performance by Doris Carlin put her on top with 36.000 and eight holes-in-one.
Reading the green and sinking the ball with one stroke takes a lot of skill. These ladies received prizes for their holes-in-one: Lori Round (6), Corky Mansmith (6), Sandi Fredrickson (7) and Doris Carlin (8).
The club's new use of handicaps has created another group of winners each month. Third place went to Barbara Heft with a net average of 35.000. In second place was Audrey Gelb with 34.850. Joanne Neumann had the best net average of 34.633.
Ranchette Putters congratulates our June winners and invites all female residents of SaddleBrooke Ranch to join us for a fun, weekly event. Our bulletin board by the pro shop has more information, or contact Cindy Watkins at [email protected].
The club also thanks our sponsors for their continued support: Oracle Land & Homes, Les and Leslie Brown – the Sell, Buy and Rent Team; Xpert Automotive, Joe Pate; Golf Cars of Arizona, Allison; New York Life, Dennis Eckmeyer CLU, CHFC, LUTCF; Eckmeyer Insurance Services, Charlotte Eckmeyer; Patrick Schaffer, DDS and La-Z-Boy of Arizona.