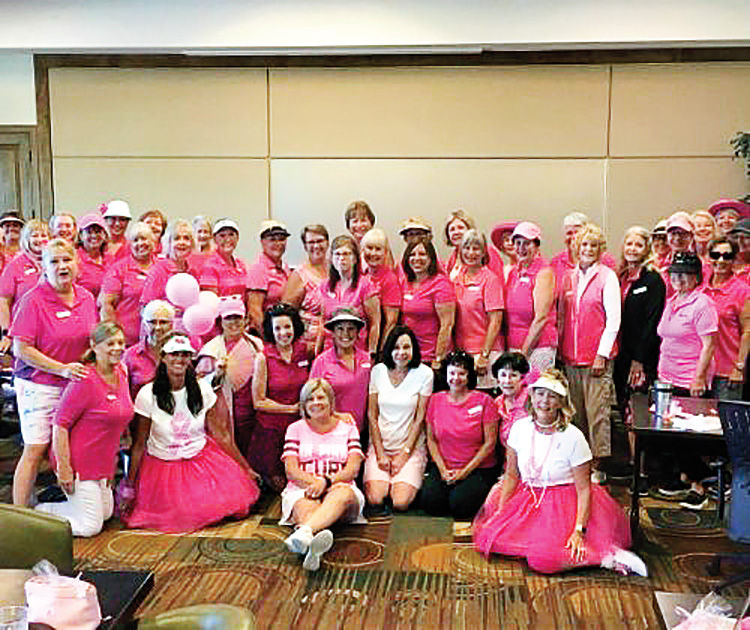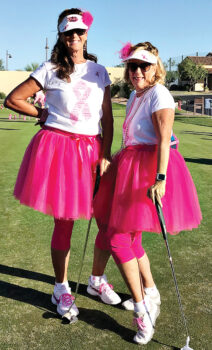 Camille Esterman
On Oct. 2, the Ranchette Putters held a Pink Out Day in an effort to raise awareness about breast cancer. Members arrived wearing pink shirts and jackets, pink shorts and skorts, pink hats and visors, pink socks and shoes, pink tights, and pink tutus! Even pink obstacles decorated the green. Everyone brought an additional $2 of putting money, which was matched by the board. The Pink Out Day raised $300 for SaddleBrooke Ranch's "Rallies for A Cure."
Tables decorated with pink bubble gum, pink Jolly Ranchers, and pink fans greeted the putters in the La Mesa Room. Everyone agreed that we could have used the fans during September's unseasonably warm temperatures. A festive mood prevailed during the club's monthly meeting, as our winners were announced.
Each month, prizes are given out to ladies with the first, second, and third lowest gross average scores, putters who sink six or more holes-in-one, and ladies with the first, second, and third lowest net average scores.
The SaddleBrooke Ranch Ranchette Putters is pleased to announce our September gross winners. Evie Thompson had the third lowest average with 37.00. Terry Pendy landed in second place with an average of 35.250. The first-place honors went to Donna Lura, who had an outstanding average of 35.000 for the month.
Cheers and high fives always accompany every hole-in-one on the green. In September, the following winners were congratulated six times or more: Donna Lura (10), Doris Carlin (9), Terry Pendy (7), Evie Thompson (7), Jacque Hendricks (6), and Cindy Watkins (6).
The use of handicaps has allowed the club to recognize another tier of monthly winners. Third place went to Evelyn Silver with a net average of 36.800. In second place was Cindy Watkins with a net average of 36.400. Randi Brosnahan had the best net average with 36.300.
Ranchette Putters is proud of the dedication and talent shown by this month's winners. The club invites all female residents of SaddleBrooke Ranch to join us for a fun weekly event. Check out our bulletin board by the pro shop for more information, or contact Cindy Watkins at [email protected]