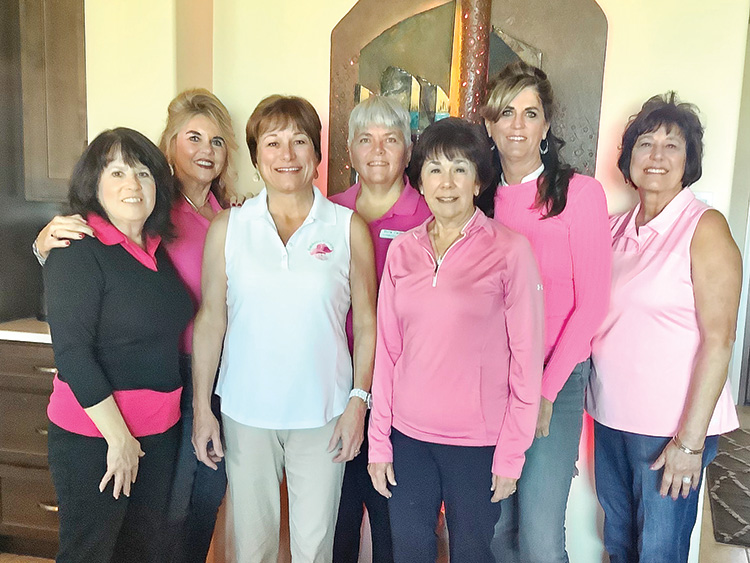 Camille Esterman
Even though the putting green was closed at the end of December, Ranchette Putters assembled in the La Mesa Room to unanimously vote for a 2020 board and committee members.
Heading the new board is President Linda Sentivanac. Serving with her are: Vice President Terry Pendy, Treasurer Judy Townsend, Secretary Evie Thompson, Statistician Doris Carlin, Events Coordinator Denise Sandoval, and Membership Chairman Corky Mansmith.
Elected committee members include: Sponsorship – Roxanne Watson, Marge Rodger, Sue Eggleston and Anne Ratterman; Scoreboard Lead – Randy Brosnahan; Publicity – Camille Esterman; Photographer – Connie Garrison; Shirts and Apparel – Barb Miller and Janice Hynes; Quarterly Set-Up – Edie Kellogg; Set-Up Reminders – Sandee Bickelhaupt; Sunshine – Linda Nicholson and Elaine Klicker.
The club also applauded the outgoing 2019 board: President Jacque Hendricks, Vice President Linda Sentivanac, Secretary Sandi Fredrickson, Treasurer Dianne Bradley, Statistician Doris Carlin, Membership – Cindy Watkins, Events – Irene Keil. Outgoing committee leads included: Webmaster – Marian Bianchini; Publicity/Photos – Rita Teresi, Ronda Hayes, and Connie Garrison; Publicity/Writer – Camille Esterman; Shirts and Apparel – Jean Elaine Parfet; Score Sheets/Boards – Randy Brosnahan and Debbi Trapp; Set Up/Scheduling – Janice Neal; Set Up/Reminders – Edie Kellogg; Sunshine – Linda Nicholson and Elaine Klicker; and Sponsorships – Debi Kerth and Terry Pendy.
In 2019, Ranchette Putters participated in the SBR Club Expo, held a pink-out event to raise funds for breast cancer awareness, hosted putters from Quail Creek, and traveled to SB to play with the Lady Putters at SaddleBrooke TWO.
We enjoyed two sessions of couple's golf with our spouses/friends: Fiesta Putting and Moonlight Putting. Independence Day was celebrated with holiday obstacles decorating the course and raffled-off goodie bags. Several continental brunches included presentations by our sponsors.
SBR Golf Pros Mike Jahaske and Ken Steinke provided a putting clinic that included some one-on-one training. Our own Donna Lura was one of the finalists in the putting competition on Golf Appreciation Day. Finally, the use of handicaps has enabled our club to give out awards each month for gross and net scores. 2019 proved to be a banner year, full of fun activities arranged by our tireless outgoing board. Congratulations to all of them on a superb job.
2020 promises to be another great year for our club. Ranchette Putters is open to all ladies who live at SaddleBrooke Ranch. Guests and new members are always welcome. No prior golf experience is necessary – just a golf ball, a putter, and a desire to have a lot of fun. The ladies meet every Wednesday at 9 a.m. on the 18-hole putting green to test and improve their skills. Plan to arrive by 8:45 a.m. to be assigned to a team. Laughter, encouragement, and hearty congratulations are often heard during their sessions. Putting is always followed by social time, including monthly meetings. Additional details on membership can be found on the board outside the pro shop or by contacting Corky Mansmith at [email protected]